Want a chance to win PDX web store discount vouchers, forum icons and avatars, or copies of Victoria 2 Complete, the HoI3 Collection, or Age of Wonders 3? Check out the wiki's contest.
Empire
Jump to navigation
Jump to search

This article is considered
accurate
for the current version (2.3) of the game.
This article is for the PC version of Stellaris only.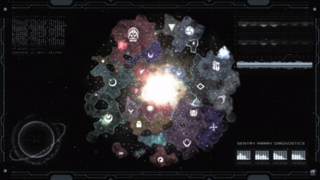 An Empire is a group of planets and star systems that are ruled by the same government and controlled by a single player (or AI). Empires may have a variety of governments such as a democracy, oligarchism, despotism or imperial rule.
Ethics are the most defining features of a space empire; they affect the behavior of AI empires, likely technologies, available policies and edicts, valid government types, the opinions of other empires, and - perhaps most importantly - provide the fuel for internal strife in large and diverse empires.
It should be noted that the name of the player empire and its government structure can always be changed in the government window.
Homeworld
[
edit
]
Each empire starts with a homeworld that is generated according to a different set of rules than randomly spawned habitable planets. Below is a summary of the different homeworlds and their features. Note that the table shows the number of districts available right at start. Clearing blockers will add to those numbers.
Homeworld
Blockers
Requirement
Notes
Organic
16-20
6
6
7
1 pop blocker (depends on authority)
Two random +2 districts (depends on authority)
Planetary Features are determined by climate but the total number of districts available is always the same.
Machine
16-20
8
6
3
1 pop blocker (depends on civics)
Abandoned Strip Mine
Machine Intelligence
Does not replace Earth's Planetary Features or blockers.
Gaia
25
8
7
8
Sprawling Slums
Industrial Wasteland (x2)
Life-Seeded civic
Increases Earth's size but does not replace its Planetary Features, resulting in a smaller number of specialized District slots.
Adds +1 Bubbling Swamp, Crystalline Caverns and Dust Caverns Planetary Features even if the homeworld is Earth.
Tomb
16-20
6
6
6
Settled Ruins
Radiation Zone
Post-Apocalyptic civic
Does not replace Earth's Planetary Features or blockers.
Tomb
16-20
7
6
3
Former Organic City
Battlefield Remains
Determined Exterminator civic
Clearing the Blockers unlocks unique Planetary Features.
Earth
16
6
7
5
Sprawling Slums
Industrial Wasteland
Great Pacific Garbage Patch
Sol starting system
Earth has its own unique set of Planetary Features and blockers.
Changing the climate of Earth during empire creation will have no effect of the Planetary Features.
The United Nations of Earth and Earth Custodianship preset empires start on Earth by default.
Unity
18
6
6
7
1 pop blocker (depends on authority)
Two random +2 districts (depends on authority)
Deneb starting system
It is identical to regular starting planets in every way except that its size is fixed at 18.
The Commonwealth of Man preset empire starts on Deneb by default.
Capital
[
edit
]
The capital is the ruling seat of an empire and is oftentimes its most important world. An empire's capital can be moved once every 10 years for a cost of 250

influence. The capital is its own world Designation and gets +5

Stability and +10

Amenities and either +100%

Governing Ethics Attraction by default or -20

Deviancy if

Gestalt Consciousness. An empire's capital planet and system are marked by star corners on the system and galaxy maps.
Empire Sprawl
[
edit
]
Empire Sprawl is a measure of an empire's expansion, both tall and wide, and increases the cost of Technologies, Traditions, Leaders and Edicts. Empire Sprawl is increased by 2 for each system, planet and owned Branch Office and by 1 for each district.
Administrative Capacity
[
edit
]
Administrative Capacity represents the bureaucratic assets available to administrate the empire. If the empire exceeds the capacity then every point of Empire Sprawl exceeding the Administrative Capacity will impart the following penalties:
+0.3% Tech cost
+0.5% Tradition adoption cost
+1% Campaign (Certain sorts of Edicts) cost
+1% Leader Upkeep cost
+1% Leader Cost
An empire's base Administrative Capacity is 30, increased by the following:
+20 Oracle permanent modifier
Assuming that each point added to your empire is equally productive the effect of empire sprawl is to make the rate of your technology, campaign, and tradition production tend to a limit - equivalent to 100 points of admin for campaign edicts, 200 for traditions and 333 for technology. This means that normally going over the administrative capacity of an empire leads to diminishing returns, however if your admin capacity is above one of these limits going over the cap even by just a few points can lead to significant reductions in productivity as your production tends down to the limit. Leader costs are significantly more complex as the number of leaders an empire requires increases as the empire becomes larger.
Empire Cohesion
[
edit
]
Empire Cohesion, as the name implies, is a measure of the overall cohesiveness of an empire's territory. If the cohesion loss is greater than the total cohesion an empire's Sprawl will be multiplied and thus put greater administrative strain upon it. Cohesion is raised or lowered by the following:
+1 for each owned system
+3 for each upgraded Starbase
-1 for each hyperlane connection outside the empire's borders
-3 for each unowned system that only connects to your empire
Empire Cohesion is especially important in games set with a high hyperlane density. Full hyperlane density in particular limits the use of outposts due to every system having on average 6 connections.
Sector systems
[
edit
]
Sectors are administrative regions within an empire. Every empire will start with a core sector, named after the homeworld and extending up to 4 hyperlanes away from the capital. Any planet colonized more that 4 hyperlanes away can be selected to create a new sector, with the planet as its capital. The new sector will extend up to 4 hyperlanes away from the new sector capital. Wormholes and Gateways are not counted for this calculation. Each sector can have a Governor assigned to it.
All sectors, including the core sector, can be given a Sector Focus. Choosing a Sector Focus will make the sector develop itself automatically as long as it has resources, reducing micromanagement. Resources can be added to a Shared Stockpile for all Sectors to use or given manually to each Sector.
Victory score
[
edit
]
Victory score tallies an empire's total accomplishment. The empire that has the highest score when the Victory Year arrives is declared winner. The Victory Year is configurable and can be disabled altogether. All players may continue the game session normally even after an empire declares victory.
The Victory Window shows a total score for each empire and its ranking, as well as a breakdown by category. The categories are as follows:
Economic Strength: A weighted sum of all monthly income, including income from trade agreements. Monthly spending is not part of this score. The various resources are weighted the same as their default market price:
Number of Systems:
Number of Colonies:
Number of Pops:
+2 per pop, regardless of type
Subject Empires
+50% of a subject empire's score is given to the overlord
Federation:
+10% of each other federation member's score is added to all federation members
Crisis Ships Killed
+10 per crisis ship destroyed
Technology Level:
Unknown, something to do with value of researched techs, perhaps also research production?
Relics
Each Relic grants a large amount of score. The score of each Relic is shown on the Relics page.
Empire Modifiers
[
edit
]
Empire Modifiers are gained through a variety of actions such as event choices or diplomacy with enclaves. They affect the entire empire and as such bring large benefits or penalties.
Permanent Modifiers
[
edit
]
Permanent Empire Modifiers are always positive and last the entire game. They can only be gained through events.
Modifier
Effects
Source
Description
DLC
Flagellating Movement
+5% Evasion

Space Amoebas special project choice

We have updated our Evasive fleet stance protocols based on observations of the Space Amoebas' flagella.
Amoeba Hunter
+33% Damage to Space Amoebas
1000 Energy per destroyed Space Amoebas fleet
Amoeba carcasses are rounded up after battle and their internal organs harvested for valuable organic compounds, bringing in 1000 for every fleet destroyed.
Amoeboid Pacification
Space Amoebas will not attack owned ships
Fleets regulate radiation venting when approaching Space Amoebas, and the spaceborne creatures no longer recognize us as a threat.
Crystal Focus
+5% Energy Credits from Jobs

Crystalline Entities special project choice

Improved transmission mediums modeled after the Crystalline Entities' unique internal structures minimize resistive losses in energy production and distribution.
Crystal Hunter
+33% Damage to Crystalline Entities
500 Minerals per destroyed Crystalline Entities fleet
The shattered remains of Crystalline Entities are automatically salvaged after battle, bringing in 500 for every fleet destroyed.
Crystalline Pacification
Crystalline Entities will not attack owned ships
Short-wave broadcasts at certain frequencies effectively disguise our fleets as fellow Crystalline Entities, and the spaceborne creatures no longer recognize us as a threat.
Drone Mining Techniques
+10% Mining Station Minerals Output

Ancient Mining Drones special project choice

Using techniques derived from the Mining Drones allows us to efficiently exploit mineral veins previously not deemed worth the trouble.
Drone Destroyer
+33% Damage to Ancient Mining Drones

Ancient Mining Drones special project choice

The Mining Drones are obviously mass-produced. A weakness found in one is a weakness found in all.
Void Loops
+10% Physics Research from Jobs

Void Clouds special project choice

The anomalous nature of the Void Clouds open up new possibilities in physics research.
Cloud Destroyer
+33% Damage to Void Clouds

Void Clouds special project choice

The Void Clouds' charge fluctuates in a rapid but observable cycle. Striking with precise timing dramatically destabilizes the inscrutable energies that animate the entities.
Sentinel Data
+20% Damage to Prethoryn Creatures

The Prethoryn Scourge covers 50% of the galaxy
Sentinels weren't defeated

These detailed anatomy files on the Prethoryn were given to us by the Sentinels. With their help we have been able to identify several weak points in the exoskeletons of the Prethoryn creatures.
Market Nexus
-10% Market Fee

Galactic Market Station
Can be captured

Hosts the Galactic Market Station
Hive Harrier
+25% Damage to the Asteroid Hives
Updated targeting data will allow our fleets to bombard Asteroid Hives where their surface armor is the most vulnerable.
Draconic Beats
+25% Damage to the Ether Drake
Military fleets have been instructed to fire at the Ether Drake in a specific rhythm when engaging the dragon.
Dreadnought Dazzler
+25% Damage to the Automated Dreadnought
Fleet commanders engaging the Automated Dreadnought have been instructed to target any subsystems that will impair its automation processes.
Portal Pacifier
+25% Damage to the Dimensional Horror
The portal spawned by the Dimensional Horror can be destabilized if we launch pinpoint attacks against certain weak areas.
The Infinite Calibrator
+25% Damage to the Infinity Machine
The Infinity Machine's real-time threat update system has one weak spot. It cannot keep up with constant change. We will henceforth assign a crew member on each ship to constantly make calibrations to the ship guns.
Technology of the Divine
+5% Happiness
Our people are praising the gigantic spherical calculator as a sign of the Divines' true power in the world.
The Singularity Procesor
+5% Research Speed
A processing unit capable of expanding upon itself. This will further enhance our research capabilities.
The Mirror of knowledge
+10% Research Speed

Helping the Infinity Machine successfully

We have gazed into the mirror universe of the Pantagruel black hole, enhancing our research capabilities.
Ageless
+15 years Leader lifespan

Essence of Ageless Science Nexus event

Aging less with Ageless...
Covenant: Composer of Strands
+20% Pop Growth Speed
+20 years Leader Lifespan
We have formed a Covenant with a powerful being in the Shroud and now benefit from its patronage.
There will be a price to pay.
Covenant: Eater of Worlds
+30% Army Morale
+15% Fire Rate
We have formed a Covenant with a powerful being in the Shroud and now benefit from its patronage.
There will be a price to pay.
Covenant: Instrument of Desire
+10% Resources from Jobs
We have formed a Covenant with a powerful being in the Shroud and now benefit from its patronage.
There will be a price to pay.
Covenant: Whispers of the Void
+15% Research Speed
+15% Monthly Influence
We have formed a Covenant with a powerful being in the Shroud and now benefit from its patronage.
There will be a price to pay.
Innoculated Population
+5% Pop Growth Speed
+10 years Leader lifespan

Ancient Caretakers innoculation success

The inoculations given to us by the Ancient Caretakers have proven of immense benefit, reducing illness and increasing the life expectancy of our population.
Improved Code Standards
+5% Robot Output

Ancient Caretakers code changes success

The changes that the Ancient Caretakers made to our code base have turned out well, and has resulted in an permanent upgrade in resource production capabilities across our whole population.
Minerals Mapping
+10% Minerals from Jobs

Molluscoid Miners anomaly event choice

A system enabling us to quickly chart underground terrain and accurately map mineral veins.
Oracle
+20 Administrative Capacity

Archaeology Site excavation

The Oracle operates the empire like a well-oiled machine...when you oil her.
Renewable Modifiers
[
edit
]
Renewable Empire Modifiers are always positive and last as long as an empire can afford their upkeep costs.
Modifier
Effects
Source
DLC
Ethic Promoted
+100% Chosen Ethic Attraction
-2 Monthly Influence
Promoting a faction
Ethic Suppressed
-75% Chosen Ethic Attraction
-1 Monthly Influence
Suppressing a faction
Muutagan Deal
+1/+2/+3/+4/+5 Monthly Rare Crystals
-10/-20/-30/-40/-50 Monthly Energy
Muutagan Merchant Guild Trader Enclave service
Leviathans
Riggan Deal
+1/+2/+3/+4/+5 Monthly Volatile Motes
-10/-20/-30/-40/-50 Monthly Energy
Riggan Commerce Exchange Trader Enclave service
Leviathans
Xuran Deal
+1/+2/+3/+4/+5 Monthly Exotic Gasses
-10/-20/-30/-40/-50 Monthly Energy
XuraCorp Trader Enclave service
Leviathans
Patron of the Arts
+10% Monthly Unity
Artist Enclave service
Leviathans
Curator Insight
+10% Research Speed
Curator Enclave service
Leviathans
OR
Distant Stars
Shroud Modifiers
[
edit
]
| | |
| --- | --- |
| | Available only with the Utopia DLC enabled. |
Shroud modifiers are obtained by trying to get a boon via the Shroud. Being successful will grant a random boon for 5 years but being unsuccessful with grant a curse for 5 years. Boons and curses can grant any of the following:
| Boons of the Shroud | Curses of the Shroud |
| --- | --- |
| | |
Unique Empires
[
edit
]
The following empires can appear during the game as a result of certain events:
Empire Name
Species
Traits
Homeworld
Authority
Ethics
Civics
Requirements
DLC
United Nations of Earth
Human
Earth
Democratic
Sol primitive civilization achieving FTL
Awoken
Awoken
Random
Random
Limbo anomaly event outcome
Subterranean Empire
Random
Random
Random
Random

Seismic Disturbances colony event outcome
Planetary defense defeat

Namaria
Namarian
Random
Democratic
MegaCorp
Ketling Star Pack
Ketling
Ruinous Core
Oligarchic

Junk Ratlings systems were discovered
No empire invaded the Junk Ratlings worlds for a few decades

Distant Stars
Prikkiki-Ti
Prikki
Gish
Random

Time Loop anomaly event outcome

Distant Stars
References
[
edit
]