Renowned paragons
Jump to navigation
Jump to search

This article has been verified for the current PC
version
(3.8) of the game.

Renowned paragons are unique leaders with special backstories that can be obtained as part of certain events. They have predefined traits, including a destiny trait, and are shown with a purple border in the leader UI.
Renowned paragon
Class
Veteran class
Destiny trait
Other traits
Ethic
Age
Level
Source

Tuborek
 Admiral
Aggressor
Fanatic Warlord

Commanding Presence II
Wrecker II
Aggressive II
Resilient II

 Xenophobe
65
10
Shielded Militant Isolationists world (25% chance)

Reth Unddol
 Admiral
Aggressor
Hell's Heart

Material Liberator II
Shipbreaker II

 Materialist
58
5
Defeating the Tiyanki Matriarch

Caretaker AX7-b
 Governor
Pioneer
Caretaker
 Gestalt Consciousness
Ageless
4
Unidentified Drop Pods anomaly

S875.1 Warform
 Admiral
Tactician
Corrosive Survivor

Scout
Skirmisher
Synthetic

 Gestalt Consciousness
Ageless
5
Mysterious Construct anomaly

Oracle
 Governor
Industrialist
Oracle

Urbanist
Architectural Interest
Principled II

 Gestalt Consciousness
Ageless
5
Hidden Worlds archaeological side outcome
The following renowned paragons have a small chance become available to recruit each decade after the
 Xeno-Linguistics technology has been researched and the empire shares the paragon's ethic. All of them starts at level 4. Each renowned paragon has a 10% chance every decade to trigger an event that grants a reward. There are two events for each renowned paragon and each can only happen once.
Renowned paragon
Class
Veteran class
Destiny trait
Positive traits
Negative trait
Ethic
Age
Random rewards

Kai-Sha
 General
Marshal
Shadow Broker
Eye for Talent
Spycraft
Tyrannical
 Authoritarian
36

Q'la-Minder
 Governor
Industrialist
Ruthless Developer
Mine Focused
Iron Fist
Cruel
 Authoritarian
39

Jynn
 General
Protector
Supreme Warrior
Guardian
Heavy Hitter
Cyborg
Reclusive
 Egalitarian
30

Zosira K'Tun
 Scientist
Researcher
Driven Educator
AI Assistant 'Gorky'
Spark of Genius
Gullible
 Egalitarian
22

Borin
 Scientist
Analyst
Natural Engineer
Salvager
Expertise: Materials
Substance Abuser
 Materialist
40

Xondar
 Admiral
Tactician
Resilient Commander
Guidance System Focus
Scout
Synthetic
Micromanager
 Materialist
Ageless

Baron Vyctor Jariden
 Admiral
Strategist
Armada Commander
Artillerist
Fleet Organizer
Melancholic
 Militarist
45

Baron Vyctor Jariden loses the negative trait and gains 5000 Experience
Choice between two positive empire modifiers for 10 years


Gia'Zumon
 General
Invader
Plundering Warlord
Kidnapper
Butcher II
Disorganized
 Militarist
28

Judge Uld Dagr
 Admiral
Tactician
Peacekeeper
Vigilant
Resilient II
Lethargic
 Pacifist
65

Vas the Gilded
 Governor
Visionary
Master Diplomat
Deep Connections
Xenolinguist
Lavish Lifestyle
 Pacifist
30

Nasuz Demetor
 Scientist
Explorer
Vibrant Storyteller
Insightful
Archaeologist II
Resilient II
Opinionated
 Spiritualist
80

Ulastar
 Governor
Pioneer
Shroud Preacher
Reformer
Unified Focus
Psychic
Irenic
 Spiritualist
48

Lysator Sang
 Admiral
Tactician
Guerilla Tactician
Material Liberator
Trickster
Slipshod
 Xenophile
33

Nona
 Scientist
Explorer
Deep Space Explorer
Adventurous Spirit II
Prospector II
Excessive
 Xenophile
32

Aturion
 General
Marshal
Alturion Efficiency
Recruiter
Logistic Understanding
Synthetic
Intolerant
 Xenophobe
Ageless

Factorator Shuladun
 Governor
Industrialist
Galvanizer
Forge Focused
Distribution Manager
Polluter
 Xenophobe
40
Legendary paragons are unique and very powerful leaders with unique backstories that can only be encountered once per game. They are shown with a golden border in the leader UI.
Gray is an Immortal level 10
 Governor with the
Industrialist veteran class and the Nanite Entity, Urbanist III and Scrapper II traits. Gray can only be obtained by opening the L-Cluster, getting the outcome where it is abandoned, investigating the Surface Signature anomaly and choosing from the Contacts menu the
 Governor form. Gray uses the same appearance as the empire's primary species.
Astrocreator Azaryn has a 1% chance to appear every 5 years. Once that happens a random empire will be contacted twice. The second time it will offer a special project that requires 180 days. Completing it will issue a second special project that requires 1000
 Society Research. Completing it will grant 2000
 Society Research and issue a third special project that requires 4000
 Society Research. Completing it will grant 5000
 Society Research. After each special project the empire will be asked two questions. 60 days after all projects have been completed Astrocreator Azaryn will be recruited. The empire capital will gain a bonus to

 Happiness,

 Growth Speed,

 Resources from Jobs and doubly so from

 Workers and

 Researchers for 2 years. How large is the bonus depends on the answers to the questions. The following answers will increase the effect of the modifier:
Is this a trick question?
Yes, we would.
We would.
Yes. Decisive actions require consideration.
Astrocreator Azaryn is a level 7

 Scientist with the
Analyst veteran class and has the Perceptive Mentor, Terraformation Nuclei, Xeno Cataloger and Spark of Genius traits and

 Xenophile ethic. It commands a science ship that has the ability to terraform 3 planets into

 Gaia Worlds with the

Overgrowth modifier at the cost of 10000

 Energy and 10 years.
Barren Worlds can be terraformed too but the time is increased to 25 years. The science ship merely starts the process and does not have to wait. The appearance of Astrocreator Azaryn will change each time a terraforming process is started and once the third terraforming process is started she will die and unlock the Contained Ecosphere empire building.
Each time a terraforming process is started there is a 25% chance to be offered a special project. Completing the special project will grant 5000
 Society Research and the next terraforming technology. If all terraforming technologies have been researched it will grant an additional 15000
 Society Research. There is a 25% chance that a few months after the special project has been completed the empire will have to pay either 2500

 Energy or 1000
 Society Research and 500

 Minerals and

 Alloys.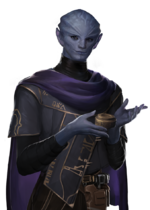 Keides, Scion of Vagros can be recruited after 20 years by the first empire that investigates the Dugar unique system. He is a level 1

 Scientist with the Nebulous Past, Erudite and Resilient traits. An event 10 years before he becomes available will let the empire choose which of the governing ethics will Keides, Scion of Vagros have.
A few months after Keides, Scion of Vagros is recruited he will add 3 Points of Interest to the situation log. Entering those systems will add a special project in each that needs 2 years and can only be researched by him. Completing each special project will upgrade the The Key relic. Once all 3 special projects are completed the empire will receive one final special project that requires 4000
 Physics Research. Completing it will grant 6000
 Physics Research and create a wormhole in the capital system leading to the Sursect system.
The first time an empire reactivates a Gateway there is a 20% chance to spawn a unique and powerful avian ship. In 4-8 months the empire will gain a special project that requires an army. Once the project is completed the empire will gain the option to invade the ship. There is a 20% chance to take control of the ship and an 80% chance the ship will become hostile. Empires that are not

 Gestalt Consciousness or
 Fanatic Xenophobe will have the option to gain a special project that requires a construction ship instead. Completing it will recruit Skrand Sharpbeak.
Skrand Sharpbeak is a level 8
 Admiral with the
Tactician veteran class and has the Shield of the Empire, Carrier Focus, Unyielding, Engineer II and Resilient II traits and

 Militarist ethic. The ship has the following components:
While Skrand Sharpbeak is recruited the empire will gain one of the following unique situations each decade:
Command Integration
Cure Progression
Lessons of the Past
New Species
Study The Crisis
Talon Study
Talon Upgrade
Within a few decades after the Command Integration and Talon Study situations has been completed the empire will unlock the

 Skravird Strike Craft technology.
The Beholder can be recruited by investigating the Spiky Readings anomaly. It starts at level 10 and is immortal and unlike other leaders it has two forms:
In space The Beholder is an  Admiral with the Tactician veteran class and has the Psychic, Vigilant, Scout and Cautious traits. It commands a heavily armored ship that disables all shields in the system and has weapons that ignore armor but have randomized damage. The ship has the ability to land on planets, where The Beholder can become  Governor.
On planets The Beholder is a  Governor with the Pioneer veteran class and has the Xeno-Mediator, Psionic Communion, Intellectual and Generator Focused II traits. It adds to the planet the Murmuring Monolith building. The Beholder can be switched back to  Admiral by using the Deploy Murmuring Monolith decision.