User:PaulMClem/ethosBanks
Jump to navigation
Jump to search
{{version|1.5}}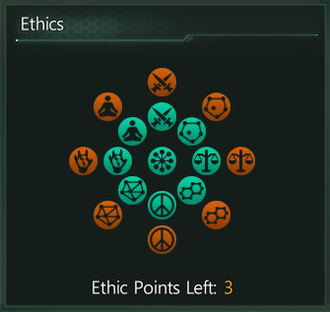 An ethos (also called ethics) is considered the sum of all beliefs and ideals that a given group of people have. It is responsible for their favored courses of action and responses to situations. Ethos has a profound effect on options available during the game. For instance, diplomatic options with alien species are affected by Ethos, as are some options for dealing with anomalies. As a result Ethos choices have a greater impact on game experience than the bonuses and maluses listed on this page.
Empires and individual populations don't always align ethically which can cause internal strife in large nations. AI species follow the same Ethics rules and their behaviour is heavily dependent on the ethics they follow. Naturally, a Militarist Xenophobe alien species will react very differently to the player than a Pacifist Xenophile. AI species will however compromise on their ethics if circumstances are dire enough, for instance if threatened with imminent conquest.
Ethos types
Every empire is limited in the amount of ethos it can possess. In general it's possible to either have three different moderate ethos types or one fanatical ethos and one moderate one.
By default each ethic is neutral which provides no bonuses nor maluses. Each "step" into a given ethos costs one point and will lock/unlock different government types as well as specific bonuses and possibly maluses. Investing two points into one type results in a more "extreme" version of an ethos that grants further bonuses and potential greater maluses.
Authoritarian - Egalitarian
The authoritarian - egalitarian dichotomy looks at the worth of an individual.
Authoritarian societies concentrate power in the hands of a few individuals, and believe in a social stratification and hierarchical rule. A lack of political freedoms and centralized power typifies authoritarian rule. Egalitarian societies however, believe in equality for all individuals, and disapprove of slavery and other forms of elitism. Egalitarian societies, valuing individuals, prefer equal distribution of power and tend to prefer more democratic forms of government.
In the game, authoritarian societies are allowed to displace pops as well as having a caste system, whereby all pops working on tiles producing minerals or food are enslaved. Authoritarians are prevented from using

Democratic government forms, while Egalitarians must use either

Democratic or

Oligarchic government forms. (Fanatical Egalitarians cannot use

Oligarchies, while Fanatic Authoritarians can use any of the

Oligarchic,
Dictatorial or

Imperial government forms). Egalitarians also have access to Utopian living standards, while their fanatical counterparts go further and prevent Poor living standards.
Type
Effects
Ethos principles
Description
Fanatic Authoritarian

Allows Caste System species policy
Must have Autocratic Government form
Can Displace aliens

A single voice, a single throne, a single state. It is the solemn duty of the masses to obey those enlightened few who have been charged with the great responsibility of leadership.
Authoritarian

Allows Caste System species policy
Cannot use Democratic Government forms
Can Displace aliens

Any society that does not embrace equality between its members - where an individual can rise to any position with enough hard work - is not only deeply unfair, but ultimately counterproductive.
Egalitarian

Cannot use Autocratic Government forms
Allows Utopian living standards

Any society that does not embrace equality between its members - where an individual can rise to any position with enough hard work - is not only deeply unfair, but ultimately counterproductive.
Fanatic Egalitarian

Must have Democratic Government form
Allows Utopian living standards
Cannot have Poor living standards for citizens

Beware always those who would be despots, under the false presumption that their desires and agendas are somehow more imperative than those of their fellows. A society that does not see to the needs and rights of all of its members is not a society - it is a crime.
Xenophobe - Xenophile
The xenophobe - xenophile dichotomy looks at the acceptance of foreign species.
Xenophobes consider that different species would introduce foreign ideas and thoughts that could destabilise and, in the end, destroy the empire or, at the very least, its cultural and genetic identity. In contrast, Xenophiles believe that society would grow stagnant without different concepts and moralities and are thus considered staunch believers in unity by diversity. Xenophobes are particularly keen on enslaving aliens, though will never accept them as equals while Xenophiles prefer making alliances viewing all organics as equal.
Type
Effects
Ethos principles
Description
Fanatic Xenophobe

Can Purge and Displace aliens
Can Enslave aliens
Decreased Opinion for other species
Cannot give aliens Full Citizenship
Cannot allow aliens Full Military Service
Cannot use Refugees Welcome species policy

Any alien influence must be ruthlessly quashed. Only by staying pure, and true to ourselves and the planet that gave us life can we guard against insidious Xeno plots. Even mastery over the Alien might not be enough to guarantee our own safety...
Xenophobe

Can Purge and Displace aliens
Can Enslave aliens
Decreased Opinion for other species
Cannot give aliens Full Citizenship
Cannot allow aliens Full Military Service
Cannot use Refugees Welcome species policy

The stakes could not be higher as we reach into the vast uncharted expanses of the galaxy, for we are gambling with the very survival of our species! Never trust the alien; its false smile hides an unknowable mind...
Xenophile

Increased Opinion for other species
Cannot use Full Native Interference policy
Cannot use No Refugees species policy

There exists, in all of us, a deep-seated fascination for the unknown. An adventurous spirit that rejects the familiar and glories in the unfamiliar, whatever - or whomever - it may be.
Fanatic Xenophile

Must always give aliens Full Citizenship
Increased Opinion for other species
Cannot use Full Native Interference policy
Cannot use No Refugees species policy

If there ever was such a thing as an absolute moral imperative, it would be to explore the cosmos and embrace all within it. We were never meant to journey alone.
Militarist - Pacifist
The militarist - pacifist dichotomy looks at the merit of war.
Militarists consider aggression as the only needed form of diplomacy required and wars are thus viewed as a tradition. In contrast, pacifists believe that violence breeds even more hatred and that friendly cooperation between different empires brings forth more long-term benefit than undignified bloodshed.
In mechanical terms, only Militarists get access to the strongest type of orbital bombardment and have strong advantages when it comes to war. Pacifists on the other hand can't harmfully interact with primitive sentients, they get a bonus for being at peace. Fanatical Pacifists can't declare unrestrictive war on others.
Militarists and Pacifists will have a hard time allying with each other due to -20 "differing war philosophy" modifier. For non-militarists offensive wars incur a -10%

war happiness penalty which is added to the pacifist penalty from being at war where applicable.
Type
Effects
Ethos principles
Description
Fanatic Militarist

Can use the Full Orbital Bombardment policy
Has reduced War Demand costs

The ability to project force is of paramount importance. The only way to preserve our way of life is to make sure everyone shares it; willingly or not...
Militarist

Can use the Full Orbital Bombardment policy
Has reduced War Demand costs

The only true virtues are courage and discipline, and channeled properly they can overcome any obstacle. Therein lies true strength; force withheld, a promise made.
Pacifist

Cannot use Unrestricted Wars policy

Conflict as a means to an end is a ridiculous concept. It is by nature destructive, destroying what was to be obtained or giving room to grow that which was to be destroyed.
Fanatic Pacifist

Must use Defensive Wars Only policy

As civilized beings, the end of all armed conflict should be our primary concern. War is an evolutionary dead end, as futile as it is wasteful.
Materialist - Spiritualist
The materialist - spiritualist dichotomy looks at the nature of being and reality in general.
Materialists disregard superstition, considering that life has no intrinsic meaning outside of their own reality and that the only true purpose is what they make of it. In contrast, spiritualists believe that consciousness surpasses materiality and that their temporal, corporeal bodies, subjected to the vicissitudes of the universe, are only a means towards a greater end: To improve themselves spiritually in anticipation of their future ascension to higher planes of existence.
Materialists get useful bonuses to all research output, and receive no penalty to happiness for employing certain technologies. Spiritualists, while having lower
ethics divergence and growth time, will suffer happiness penalties for adopting policies involving the use of robotics or genetic enhancement of leadership. Materialists are unable to access psionics research by default, while Spiritualists have the same issue with robotics (though both can still obtain them as research alternatives by employing a scientist with the proper expertise).
Type
Effects
Ethos principles
Description
Fanatic Materialist

Can use Full AI Rights policy

Although it hurts, we must grow up and put aside our outdated notions of morality. There is no 'divine spark' granting special value to a living mind. No object has any intrinsic value apart from what we choose to grant it. Let us embrace the freedom of certitude, and achieve maximum efficiency in all things!
Materialist

Can use Full AI Rights policy

As we reach for the stars, we must put away childish things; gods, spirits and other phantasms of the brain. Reality is cruel and unforgiving, yet we must steel ourselves and secure the survival of our race through the unflinching pursuit of science and technology.
Spiritualist

Can research Psionic technologies
Can build Temple buildings
Must use AI Outlawed policy

There are those think it behooves us to remember how tiny we are, how pointless our lives in this vast uncaring universe... What nonsense! The only truth we can ever know is that of our own existence. The universe - in all its apparent glory - is but a dream we all happen to share.
Fanatic Spiritualist

Can research Psionic technologies
Can build Temple buildings
Must use AI Outlawed policy

Our science has proved that Consciousness begets reality. We regard with patience the childlike efforts of those who delude themselves it is the other way around, as they play with their blocks of 'hard matter'.
Hive Mind
In addition to the Advanced Civics, those with the Utopia expansion also get access to a unique Authority with a highly unique playstyle: the Hive Mind. Hive Minds are species where the individuals are all part of the same, vast, psionically linked consciousness. The Immortal Hive Mind rules absolutely over the population of non-sentient worker drones, using sentient 'Autonomous Drones' (Leaders) to extend the reach of its will. Picking the Hive Mind Authority requires the Hive Mind Ethic and each can only be picked together with the other: With only one, vast and linked consciousness, the guiding values of a Hive Mind is whatever the Hive Mind player wants it to be. They have their own set of Civics that can only be used by Hive Minds, and cannot use any non-Hive Mind Civics.
All Pops from the founder species of a Hive Mind will have the Hive-Minded trait. Hive-Minded Pops are not affected by Happiness and will never form Factions, allowing Hive Minds to completely ignore internal politics... though this comes as a cost, as they also cannot benefit from the Influence boost and other benefits provided by happy Factions in a regular empire. As Hive Minds rely completely on their ability to communicate psionically with the drone population, they are also unable to rule over non Hive-Minded Pops, and any such Pops in your empire will automatically be killed over time and processed into food to feed the Hive. Similarly, Hive-Minded pops that end up in non Hive Mind empires will be cut off from the Hive and will perish over time. The only way to integrate Pops between Hive Minds and non-Hive Minds is to use the Biological Ascension Path to unlock advanced gene modding and modify them by adding or removing Hive-Minded (more on this in the next dev diary). However, Hive Minds can still coexist with other species: They have full access to diplomacy and can have non-Hive Mind subjects (and can be ruled over as subjects in turn), though non-Hive Mind empires tend to be somewhat distrustful of Hive Minds on first contact.
While Hive Minds are psionic by nature, the way they function and their connection to the Shroud is radically different from that of regular psychics, making them unable to follow the Psionic Ascension Path. Furthermore, Hive Minds are deeply biological entities, and fundamentally incompatible with the Synthetic Ascension Path. They are however perfectly suited for the Biological Ascension Path, and can make use of it to assimilate other, non-Hive Mind species into the Hive as described above.
Type
Effects
Ethos principles
Description
hive mind

Must use the Hive Mind authority
Hive Mind rulers are Immortal
Hive-Minded Pops are not affected by Happiness and will not join Factions
Hive-Minded Pops cannot survive in non-Hive Mind empires
Non Hive-Minded Pops cannot survive in Hive Mind empires
Must use AI Outlawed policy
Cannot follow Psionic or Synthetic Ascension Paths
Can genetically modify species to become Hive-Minded if Biological Ascension Path is completed

We reach into the void. The vast expanse becomes us.
Pop Ethics
Pre-1.5 ethics divergence was seen as overly simplified with just a single value determining if pops go towards or from empire ethics, the shift rarely made sense: Why would xenophobe alien pops diverge away from xenophobe just because they're far away from the capital of a xenophobic empire? Furthermore, the fact that pops could have anything from one to three different ethics made it extremely difficult to actually quantify what any individual pop's ethics actually mean for how they relate to the empire. For this Pop Ethics were reworked for 1.5 in the following way:
Each pop in your empire will now only embrace a single, non-fanatic ethic. At the start of the game, your population will be made of up of only the ethics that you picked in species setup, but as your empire grows, its population will become more diverse in their views and wants.
Each ethic now has an attraction value for each pop in your empire depending on both the empire's situation and their own situation. For example, enslaved pops tend to become more egalitarian, while pops living around non-enslaved aliens become more xenophilic (and pops living around enslaved aliens more xenophobic). Conversely, fighting a lot of wars will increase the attraction for militarism across your entire empire, while an alien empire purging pops of a particular species will massively increase the attraction for xenophobic for the species being purged.
Over time, the ethics of your pops will drift in such a way that it roughly matches the overall attraction of that value. For example, if your materialist attraction sits at 10% for decades, it's likely that after that time, around 10% of your pops will be materialist. There is some random factor so it's likely never going to match up perfectly, but the system is built to try and go towards the mean, so the more over-represented an ethic is compared to its attraction, the more likely pops are to drift away from it and vice versa.
Modifying Ethics
Though ethics of pops cannot be specifically modified through any piece of technology, you can let ethics divergence remain high on certain worlds in order to "breed" a pop with a desired ethic. Once one such pop is randomly created you can build any number of colony ships from that pop to spread the specific ethic code throughout other worlds. If your empire permits purges, you can also purge all undesired pops to let the desired one fill the planet while creating the necessary buildings to bring down ethics divergence. You can also purge other colonised worlds and recolonise them with the new pop. These methods are especially useful for creating a docile, easy to control version of a useful but problematic conquered alien species.
References
Notes
{{Template:ConceptsNavbox}} [[Category:Game concepts]]