Ancient Relics
Jump to navigation
Jump to search

This article is
timeless
and should be accurate for any version of the game.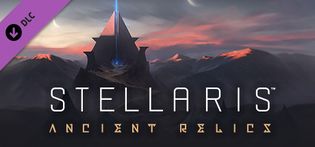 ---
Type
---
Release date / Patch
Ancient Relics is the 4th story pack for Stellaris. It was announced on 2019-05-14[1]. The story pack is accompanied by the free 2.3 patch.
Expansion features
Those Who Came Before: Encounter two new extinct Precursor civilizations, each with their own anomalies. Players can investigate these to understand who they were and, more importantly, what one can learn from their demise.
Relic Worlds: Once teeming with life, these Relic worlds now lie dead, covered with desolate ruins and dormant mysteries. Players can create archaeological sites to explore these remains and bring to light powerful relics and artifacts.
Matter of Artifacts: Utilizing archaeological research, discover Minor Artifacts, a new resource type which can help empower one's empire.
Dig In: Hit the dirt on a variety of enigmatic and alien worlds with more archaeology sites available for your empire to study... or plunder. Each site begins a story with between one and six chapters to investigate. Retrace the history to discover artifacts and relics that can be boons to your empire.
Free features
Dev diaries
Main article: Developer diaries

All developer diaries about the Ancient Relics story pack, patch 2.3 (aka Wolfe), and patch 2.4 (aka Lee).
Patch 2.4 (Lee)
Patch 2.3 (Wolfe)
References