Economy
Jump to navigation
Jump to search

Please help with verifying or updating older sections of this article. At least some were last verified for
version
1.4.
This article is for the PC version of Stellaris only.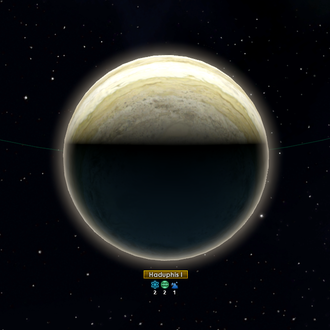 In Stellaris, an empire's economy is based around resources which are produced in limited quantities on astronomical objects and are used for various purposes.
Resources are obtained by having a POP on its tile in a colony or by building a specific type of station in space. They can also be produced on a planet by constructing buildings and these stack with already existing resources of the same type. Gathered resources can benefit a planet, a sector or an empire as a whole.
Resources can vary from fairly common

food crops to very rare substances such as

dark matter and from physical

minerals to "produced" knowledge, such as
engineering research.
In that way, resources are very important and ought to be quickly scouted, exploited, and developed.
There are two kinds of resources: basic and strategic.
Basic resources
Please help with verifying or updating this section. It was last verified for

version

1.4.
Basic resources are the most important type as they provide the means to expand both geographically, developmentally and technologically. They are gathered and stockpiled on a monthly basis, but not nessesarily on the same day. While they all have a stockpile, how that stockpile and the excess is used varries fundamentally between each resource.
Energy credits
Energy credits are the game's currency, backed by an empire's ability to produce energy. Their focus is mostly on Produciton for Maintenance, rather then storing large amounts. They are mainly used for recurring expenses such as maintenance of buildings, ships, spaceport modules, stations and food replacement for Robots. There is a significant maintenance cost for colony ships and colonies that are being established. Energy credits are also expended as lump-sum payments for other various tasks, such as clearing tile blockers, initiating terraforming (a significant investment, with the cheapest process costing 2000
energy), and building robots.
Finally, they can also act as bargaining chip in trade deals with early empires. However as empires grow more established, producing and storing larger amounts of energy credits, they can become worthless for trade. However that can make it really cheap to acquire them via trade deals, especially for Minerals.
They can be acquired by building mining stations around celestial bodies, building solar panel networks spaceports and by constructing and upgrading power plants on colonized worlds. They are produced and stored on a sector-by-sector basis as well as empire basis so it is advisable to keep an eye out on a players' energy balance before handing systems away.
It is very important to keep a positive storage as not having enough energy credits will cause a critical resource shortage that reduces the output of

minerals, all research, ship and army build speeds, ship shields and weapons damage by half. Additionally, colonies in the process of establishing themselves on new worlds will halt their progress and the output of robotic pops will be reduced by half.
Generally, consistency of energy output is more important than amount, unless active expansion is in process.
Empires can stockpile 5000 energy credits at the start of the game. This cap can be increased by technology (500 for each ship power source technology, 500 for each Power Plant technology except the first and last, and 1000 for each Power Hub technology) for a maximum cap of 10000 energy credits.
Minerals

Minerals is a collective term for all physical, material resources that are used for constructing and upgrading stations and buildings. Repairing ships in a Spaceport also costs a small amount of minerals per day, drawn directly from storage. Minerals are also required for the upkeep of ships.
Minerals also act as a valuable commodity for trade deals, as they are consumed by a significantly wider range of projects than
energy credits; there are few times where an otherwise somewhat unattractive trade deal cannot be made attractive to another empire by offering them a modest sum of minerals.
They, like
energy credits, can be obtained by building mining stations, and by constructing and upgrading mines on the surface of planets and moons. They are also produced and accumulated on a sector-by-sector basis.
It is often important to have a sizable storage, especially so in times of war, in order to better deal with urgent situations and be able to survive production sites being lost or cut off. Not having enough minerals will cause a critical resource shortage that reduces

ship armor,

army damage, weapons damage and research speed by half . A careful player should decide how many months or years worth of minerals should be kept in storage as a reserve. Minerals production should be pretty much maximized at all times, unless there is energy shortage or the empire has passed the point of saturation and cannot put minerals to use faster.
Empires can stockpile up to 5000 minerals by default, with mining-related technologies and the Mineral Silo building increasing the limit. Sectors have their own separate stockpiles.
In banks (1.5) there is now a "taxation" of minerals called consumer goods, which are used to keep populations happy. Depending on the level you have a species' standards at, the amount used will vary from 0.5 - 3.0 per pop (or in the case of undesirables/non-existants, 0).
Food
Each planet grows its own

food and can export or import food. Surplus food increases population growth. Likewise, an empire-wide food shortage leads to starvation, which decreases happiness and halts or even regresses pop growth. Existing pops will not die but otherwise should carry on living. Empire food storage can be managed via the empire policies.
Food can be produced by constructing orbital hydroponic farms on spaceports or by building and upgrading hydroponic farms on the surface. Development of each planet should start with evaluation of potential population growth and planning for enough food production to grow the population to that level and sustain them. Rushing food production in new colonies is a decent initial strategy, once colony reaches its maximum population and production potential in shorter time excessive farms could be replaced with more useful buildings.
Starvation penalties apply once the deficit reaches at least 2; a deficit causes a "starvation" malus of -5% happiness per missing food, stacking. Whilst happiness penalties do not affect food production (to avoid runaway scenarios where unhappy farmers produce less food, and then become even more upset because they aren't farming enough to feed themselves), the happiness penalties can cause significant reductions to all other resource outputs and causes unrest to spike. As such, starvation should be avoided at all costs.
Influence

Influence represents political and diplomatic clout. It is used for colonizing planets, enacting or maintaining edicts, conquering primitive civilizations, incorporating vassals, changing government types, recruiting leaders, building (and maintaining) frontier outposts and empire-unique buildings, maintaining defensive pacts and federations, and dealing with factions. Depending on a players' governing ethos and government type, it is also possible to use it to resettle POPs and influence elections.
It can be gained by declaring rivalries, researching technologies that increase influence output, by finishing events or anomalies, having protectorates, adopting the galactic ambitions tradition in the expansion tradition tree (cuts the frontier outpost unkeep by half), building an Empire capital-complex, winning wars using the "Humiliate" and "Stop Atrocity" war goals, and in the case of democratic governments by fulfilling rulers' mandates. It is produced on an empire basis so it doesn't matter if a given system is managed by a sector.
The base cost of colonizing a planet, building a frontier outpost, or attacking a primitive civilization is 30

influence, which is increased the further away the system is from one's existing borders.
While not as important as
energy credits or

minerals in the day-to-day economy, it is nonetheless critical in the long-term strategic sense -- correct application of influence in critical moments may give an empire much needed edge. It is quite vital in the early/mid stages, when building frontier outposts is highly recommended in order to increase an empires' reach and secure additional, potential resources and habitable worlds.
Empires produce a base of 2

influence a month, can store only 1000, and the storage amount cannot be increased.
An influence shortage causes an empire-wide -20%

happiness penalty.
Please help with verifying or updating this table. It was last verified for

version

1.9.
| | Population | Governance | Planet | Technology |
| --- | --- | --- | --- | --- |
| +3 | — | "Sponsored Rebels" modifier | — | — |
| +2 | "Servitor Morale: Maximum" modifier | — | — | — |
| +1.5 | "Servitor Morale: High" modifier | — | — | — |
| +1 | | | — | Planetary Unification |
| +0.5 | | Psychic | — | — |
| −1 | "Servitor Morale: Abysmal" modifier | "(Faction) Suppressed" modifier | — | — |
| −2 | — | "(Faction) Promoted" modifier | — | — |
Unity
Unity is a resource used to acquire traditions, allowing one to progress through tradition trees and, by extension, gain ascension perks.
Every empire has a base gain of

+1 Unity. Additional unity is generated by buildings, in particular the Planetary Capitol building. Research and traditions can add a number of unity generation buildings. Civics and ethics can also affect the unity gain rather drastically.
Research
Research is used to acquire new technologies in the
Physics,
Society, and
Engineering departments. It can also be used when dealing with some special projects.
It can be acquired by building research stations and by constructing and upgrading science labs on the surface of planets and moons. It, like

influence, is produced on an empire basis.
Stored research works totally differently from other stored resources. Storage can only be acquired from any time spent not working on either an active research topic or by finishing a special projects, including salvage operations. The moment active research does take place, stored research is used to speed up the progress. For every point of research income, an additional point from the storage is used to effectively double the speed. As such research tends towards 0 storage eventually, while still allowing lump sums to be gained and stored.
Research points gained from anomaly investigation and from salvaging debris are added to the stored research pool; research points are not added to the stored research pool when conducting special projects such as debris salvage or genetic modification.
Strategic resources
Please help with verifying or updating this section. It was last verified for

version

1.5.
Strategic resources are rare resources that provide an empire-wide modifier boost. To exploit them, they must first be revealed by researching technologies. Usually one location can hold only one strategic resource. The resources do not stack and require only a single item of the resource to get the boost.
They can also be traded with other empires and are valued far more than the common basic resources. Due to their rarity and potency, strategic resources may lead to tensions with envious rival empires, sometimes leading to war in an attempt to acquire them by force.
Resources
Pre-requisites
Effects
Location
Description
Dark matter
Dark Matter Drawing
+20% Physics research
This exotic substance has many properties that seemingly defy the laws of physics. Harvestable concentrations can only be found near Black Holes or in certain nebulas.
Engos vapor
Engos Vapor Refining
+5% Habitability
A naturally occurring stimulant that helps all forms of life adapt and evolve.
Garanthium ore
Garanthium Mining
+10% Ship health

Only found on asteroids.
Accompanied by 3 minerals.
2x chance of finding if inside a nebula.

This ore can be refined into a metal that is both very malleable and durable. It is an excellent material used for the construction of ships.
Living metal
Living Metal Tech

(unrecognized string "ship auto repair speed" for Template:Icon) +2% Ship auto repair speed

This inorganic metal shows characteristics usually seen only in biological life forms. It will always attempt to regenerate back into the shape it was stabilized into.
Lythuric gas
Lythuric Gas Refining
+20% Ship shield health

Only found on gas giants.
2x chance of finding if inside a nebula.

Small concentrations of this gas has been shown to significantly strengthen the integrity of energy force fields.
Muutagan crystals
Trader enclave
+10% Government Ethics Attraction
The $guardian.104.name$ are the only group that posses the knowledge of crafting these crystals. If struck, these 'singing' crystals start to vibrate while emitting a unique humming sound. They are often used as musical instruments, and have a calming effect on most beings.
Neutronium ore
Neutronium Extraction
+20% Ship armor health

Only found on neutron stars.
Accompanied by 5 Engineering.
2x chance of finding if inside a nebula.

Neutronium is a super-dense substance composed of neutrons that can be forged into extremely resistant and durable armor.
Orillium ore
Orillium Extraction
+15% Explosive Weapon Damage
Orillium is a very dense and unstable element that can be used for powerful explosives.
Pitharan dust
Pitharan Dust Refining
+10% Food
This energy-dense fine dust serves as an excellent fertilizer.
Riggan spice
Trader enclave
+5% Happiness
The secret methods of extracting and mixing this spice is something that is not known outside the $guardian.103.name$. The spice has a unique flavor and is a popular food ingredient.
Satramene gas
Satramene Refining
+10% Government Ethics Attraction
This gas is a naturally occurring stimulant found on some worlds. It has a calming effect on most beings, and can be used as a non-violent way of pacifying hostile individuals. Its addictive nature is a well-documented side-effect.
Teldar crystals
Teldar Crystal Mining
+15% Kinetic Weapon Damage

Only found on asteroids and Frozen worlds.
2x chance of finding if inside a nebula.

Extremely durable crystals that enhance the armor-piercing capabilities and destructive potential of projectile weapons.
Terraforming gases
Terrestrial Sculpting
-25% Terraforming cost

Only found on gas giants worlds.
Accompanied by 3 energy.
2x chance of finding if inside a nebula.

Mined from Gas Giants, Terraforming Gases represents an assortment of gases such as Hydrogen, Helium and Methane. Access to Terraforming Gases will make it easier for us to terraform planets.
Terraforming liquids
Terrestrial Sculpting
-25% Terraforming cost

Only found on frozen worlds.
Accompanied by 3 energy.
2x chance of finding if inside a nebula.

Mined from Frozen planets, Terraforming Fluids represents different types of fluids such as dihydrogen monoxide. Access to Terraforming Fluids will make it easier for us to terraform planets.
XuraGel
Trader enclave
+5% Habitability
Produced by $guardian.100.name$, this gel claims various positive medicinal effects for creatures living in inhospitable environments.
Yurantic crystals
Yurantic Crystal Mining
+15% Energy Weapon Damage

Only found on asteroids and frozen worlds.
2x chance of finding if inside a nebula.

These crystals have rare reflective properties that enhance the power output of energy weapons.
Zro
Zro Distillation

Only found on gas giants inside a nebula.

An extremely rare aerosol of exotic particles. It has been deposited on a number of worlds through meteor impacts, but its true origin is a mystery. If ingested by psionically-gifted individuals, zro acts as a very potent (and addictive) drug that enhances PSI abilities.
Local resources
In addition to the global-modifier resources there are also some local resources which provide a certain boost only to the planet they are on. These resources require the construction of a special building on the resource tile to exploit them.
Resources
Pre-requisites
Effects
Location
Description
Alien Pets
Xeno Zoo building
+10% Happiness


Accompanied by 3 Society.
Not found on owned planets, Tomb worlds, in any empire's home system, or in the Sol and Deneb systems.
2× chance if it's a Gaia world.
5× chance if world has either the Lush or the Dangerous Wildlife modifiers.

These docile non-sentient creatures can easily be domesticated, and their friendly demeanor and appealing looks would make them popular as pets and companions. Xenophiles value them highly and proudly present them in their zoos.
Betharian stone
Betharian Power Plant building
+10 Energy credits
These rare stones have been deposited on many worlds through meteor strikes. They burn very slowly and are very efficient energy sources.
References