Ethics
Jump to navigation
Jump to search

Please help with verifying or updating older sections of this article. At least some were last verified for
version
1.3.
This article is for the PC version of Stellaris only.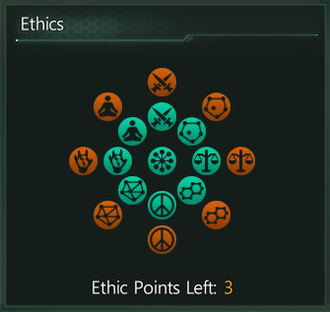 An ethos (also called ethics) is considered the sum of all beliefs and ideals that a given group of people have. It is responsible for their favored courses of action and responses to situations. Ethos has a profound effect on options available during the game. For instance, diplomatic options with alien species are affected by Ethos, as are some options for dealing with anomalies. As a result Ethos choices have a greater impact on game experience than the bonuses and maluses listed on this page.
Empires and individual populations don't always align ethically and this effect is exacerbated the farther from a core region a given species is, which can cause internal strife in large nations.
AI species follow the same Ethics rules and their behaviour is heavily dependent on the ethics they follow. Naturally, a Militarist Xenophobe alien species will react very differently to the player than a Pacifist Xenophile. AI species will however compromise on their ethics if circumstances are dire enough, for instance if threatened with imminent conquest.
Ethos types
Every empire is limited in the amount of ethos it can possess. In general it's possible to either have three different moderate ethos types or one fanatical ethos and one moderate one.
By default each ethic is neutral which provides no bonuses nor maluses. Each "step" into a given ethos costs one point and will lock/unlock different government types as well as specific bonuses and possibly maluses. Investing two points into one type results in a more "extreme" version of an ethos that grants further bonuses and potential greater maluses.[1]
Collectivist - Individualist
The collectivist - individualist dichotomy looks at the worth of an individual.
Collectivists consider that an individual should cooperate with the rest of the society in order to benefit society as a whole. In contrast, individualists believe that an individual should be the master of their own destiny and pursue their own goals, dreams, and ambitions.
Collectivists focus on pursuing one common goal while the individualists focus on attempting to coexist while each pursuing their own. As such, even though collectivists empathise "the need of many" they do not deal well with democracy and lean towards autocracy (aren't self-centred enough to reject autocracy, aren't chaotic enough to deal with democracy). Meanwhile, even though individualists empathise the "radiant genius of individuals", they don't deal well with autocracy and instead lean towards democracy (aren't driven enough to reject democracy, aren't compliant enough to to deal with autocracy).
In mechanical terms, Collectivists tolerate the idea of slavery, while Individualists do not. Collectivists consume less Food, while Individualists gain bonuses to Energy production. Each of the two also have access to unique colonisation technologies (determined by the ethos of the scientist employed), with Collectivists focusing on reducing
ethics divergence even further, and Individualists focusing on more rapid expansion.
| Type | Effects | Description |
| --- | --- | --- |
| Fanatic Collectivist | | The purpose of the individual is simple; strengthen the collective. To enter the blackness of space we move as one, and we shall not be weakened by wanton separatism. |
| Collectivist | | Society has long since evolved past the insignificant rivalries and concerns of individuals. We are numerous but one, and the needs of the many outweigh the needs of the few. |
| Individualist | | Community is a means to an end, not the end itself. Only by empowering the individual to reach their maximum potential do we achieve true freedom. Freedom of thought, of speech, of movement, of trade. |
| Fanatic Individualist | | We must recognise that "society" is but a convenient fiction, the by-product of individuals working toward parallel, overlapping, and contradictory goals. As it should be. |
Xenophobe - Xenophile
The xenophobe - xenophile dichotomy looks at the acceptance of foreign species.
Xenophobes consider that different species would introduce foreign ideas and thoughts that could destabilise and, in the end, destroy the empire or, at the very least, its cultural and genetic identity. In contrast, Xenophiles believe that society would grow stagnant without different concepts and moralities and are thus considered staunch believers in unity by diversity. Xenophobes are particularly keen on enslaving aliens, though will never accept them as equals while Xenophiles prefer making alliances viewing all organics as equal.
| Type | Effects | Description |
| --- | --- | --- |
| Fanatic Xenophobe | | Any alien influence must be ruthlessly quashed. Only by staying pure, and true to ourselves and the planet that gave us life can we guard against insidious Xeno plots. Even mastery over the Alien might not be enough to guarantee our own safety... |
| Xenophobe | | The stakes could not be higher as we reach into the vast uncharted expanses of the galaxy, for we are gambling with the very survival of our species! Never trust the alien; its false smile hides an unknowable mind... |
| Xenophile | | There exists, in all of us, a deep-seated fascination for the unknown. An adventurous spirit that rejects the familiar and glories in the unfamiliar, whatever - or whomever - it may be. |
| Fanatic Xenophile | | If there ever was such a thing as an absolute moral imperative, it would be to explore the cosmos and embrace all within it. We were never meant to journey alone. |
Militarist - Pacifist
The militarist - pacifist dichotomy looks at the merit of war.
Militarists consider aggression as the only needed form of diplomacy required and wars are thus viewed as a tradition. In contrast, pacifists believe that violence breeds even more hatred and that friendly cooperation between different empires brings forth more long-term benefit than undignified bloodshed.
In mechanical terms, only Militarists get access to strongest type of orbital bombardment and have strong advantages when it comes to war. Pacifists on the other hand can't harmfully interact with primitive sentients, they get a bonus for being at peace. Fanatical Pacifists can't declare unrestrictive war on others.
Militarists and Pacifists will have a hard time allying with each other due to -20 "differing war philosophy" modifier. For non-militarists offensive wars incur a -10%

war happiness penalty which is added to the pacifist penalty from being at war where applicable.
| Type | Effects | Description |
| --- | --- | --- |
| Fanatic Militarist | | The ability to project force is of paramount importance. The only way to preserve our way of life is to make sure everyone shares it; willingly or not... |
| Militarist | | The only true virtues are courage and discipline, and channeled properly they can overcome any obstacle. Therein lies true strength; force withheld, a promise made. |
| Pacifist | | Conflict as a means to an end is a ridiculous concept. It is by nature destructive, destroying what was to be obtained or giving room to grow that which was to be destroyed. |
| Fanatic Pacifist | | As civilized beings, the end of all armed conflict should be our primary concern. War is an evolutionary dead end, as futile as it is wasteful. |
Materialist - Spiritualist
The materialist - spiritualist dichotomy looks at the nature of the being and reality in general.
Materialists disregard superstition, considering that life has no intrinsic meaning outside their own reality and that the only true purpose is what they make of it. In contrast, spiritualists believe that consciousness surpasses materiality and that their temporary, mortal bodies, subjected to the vicissitudes of the universe, are only means towards a greater end: to improve themselves spiritually in anticipation of their future ascension to higher planes of existence.
Materialists get useful bonuses to all research output, and receive no penalty to happiness for employing certain technologies. Spiritualists, while having lower
ethics divergence and growth time, will suffer happiness penalties for adopting policies involving the use of robotics or genetic enhancement of leadership. Materialists are unable to access psionics research by default, while Spiritualists have the same issue with robotics (though both can still obtain them as research alternatives by employing a scientist with the proper expertise).
| Type | Effects | Description |
| --- | --- | --- |
| Fanatic Materialist | | Although it hurts, we must grow up and put aside our outdated notions of morality. There is no 'divine spark' granting special value to a living mind. No object has any intrinsic value apart from what we choose to grant it. Let us embrace the freedom of certitude, and achieve maximum efficiency in all things! |
| Materialist | | As we reach for the stars, we must put away childish things; gods, spirits and other phantasms of the brain. Reality is cruel and unforgiving, yet we must steel ourselves and secure the survival of our race through the unflinching pursuit of science and technology. |
| Spiritualist | | There are those think it behooves us to remember how tiny we are, how pointless our lives in this vast uncaring universe... What nonsense! The only truth we can ever know is that of our own existence. The universe - in all its apparent glory - is but a dream we all happen to share. |
| Fanatic Spiritualist | | Our science has proved that Consciousness begets reality. We regard with patience the childlike efforts of those who delude themselves it is the other way around, as they play with their blocks of 'hard matter'. |
Pop Ethos, Government Ethos and Ethics Divergence
At start of the game all the pops on your home planet will be of the Government Ethos. Newly grown pops copy the ethos set of a pop unit already on the planet, with a slight preference for the same species. That last part means new colonists should be selected on Ethics as much as Habitability and Traits.
A few things however can result in pops that do not conform to the Government Ethos:
Positive (red) Ethics Divergence will result in pops diverging away from the Government Ethos towards totally new Ethos sets, including the opposite ones. Prior to patch 1.1, "Clarke", ethos divergence tended towards neutrality, instead of towards new ethics.[2]
once factions form, thier "Gather Support" effect can flip the ethoses of other pops on the planet/sector wich can result in them becomming unhappy and joining the Faction as well.
adding citizens of another Empire via Migration, Resettlement or Conquest can introduce a totally new set of Ethics into the mix.
Either of the 3 may then affect other newly born pops. Unless you go for a high Anti-Divergence build, asume that pops will diverge and that pop level ethos modifiers will be lost.
Having conflicting sets of Ethoses can be a big hinderance to an Empire. The lack of a Basic Ethos Line means that any given policy might upset any number of citizens, with the opposite choice having similar effects on other pops. Making every possible choice different degrees of Lose/Lose for the player. Also assignment to certain tiles might get problematic, as pop Level Ethoses Bonuses might have been lost.
There are a few ways to deal with diverging Ethics:
Embrace it. Individualists Empire Modifier to "Policy Unhappiness" as of 1.3 greatly reduces the stress on the Individualist Empire.
Overshadow it. This requries considerable bonus Happiness. The idea is to add so much happiness that even with the Divergence and policy penalties, pops stay happy enough most of the time.
Avoid it. Negative (green) Ethics divergence means that the pop will start shifting towards the Government Ethos. This can even convert conquered or migrated pops to your ethos over considerable time. Primarily however it prevents new divergence from taking hold.
Ethics divergence is handeled on a per Pop level. Various Factors like Traits and Policies can influence how likely any given Pop unit is to change it's Ethos, one way or the other. Note: Ethical divergence affects only Pops. It will not change the Ethos of your Empire, which is maintained as a baseline for the divergence to act relative to.
Ethics Divergence Modifiers
The base modifier is +0.1% multiplied by the distance from the Capital solar system.
Please help with verifying or updating this table. It was last verified for

version

1.9.
Population
Governance
Planet
Technology
The modifier "ethics divergence" was renamed to "governing ethics attraction" with patch 1.5.
Modifying Ethics
Though ethics of pops cannot be specifically modified through any piece of technology, you can let ethics divergence remain high on certain worlds in order to "breed" a pop with a desired combination of ethics. Once one such pop is randomly created you can build any number of colony ships from that pop to spread the specific ethic code throughout other worlds. If your empire permits purges, you can also purge all undesired pops to let the desired one fill the planet while creating the necessary buildings to bring down ethics divergence. You can also purge other colonised worlds and recolonise them with the new pop. These methods are especially useful for creating a docile, easy to control version of a useful but problematic conquered alien species.
References