Species rights
Jump to navigation
Jump to search

Please help with verifying or updating older sections of this article. At least some were last verified for
version
2.3.
This article is for the PC version of Stellaris only.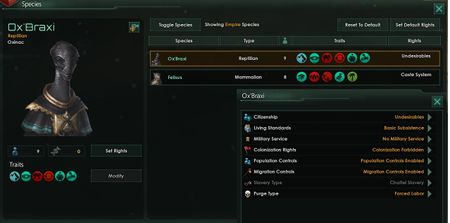 Species rights is a system where the rights of species in an empire can be determined. The rights can be determined individually for each species in- and outside of the empire. Rights can be changed every 10 years. What rights can be selected depends on if the species is the main species of the empire, what ethics the empire has, active policies and government forms. The set rights interface can be found from the species panel.
Citizenship
Citizenship represents the status of a species in an empire: whether they are free or subjugated, whether or not they can participate in the political processes of the country, what restrictions can be placed on them and even whether they have the right to live in your empire at all. In addition to rights and obligations, citizenship also affects pops' migration attraction: A Pop that is currently enjoying full citizenship is unlikely to move to another empire where their rights could potentially be curtailed, while Pops living under second-class citizen conditions are more likely to move to an empire that would grant them a fairer life. Note that enslaved Pops cannot migrate but may potentially revolt if they are dissatisfied enough and their overlord is inattentive.
Type
Pop Effects
Requirements
Description
Full Citizenship

Only option if primary species
Full Military Service Species Rights if empire has  Citizen Service
Citizen Rights Artificial Intelligence policy if species is  Synthetic
Not available for Hive-Minded species unless Hive Mind and Hive Minds can only give this to Hive-Minded species

Pops are free to be politically active and the species can produce Leaders.

---

Each and every individual of this species is an esteemed member of this society.

Residence
-10% Happiness
-25% Pop Amenities Usage
-50% Pop Political Power
Pops are free, but may not engage politically and the species cannot produce Leaders.

---

They have yet to prove themselves worthy of all rights afforded to others. Perhaps they never will.

Slaves
Determined by Slavery type
All Pops of this species will be Enslaved.

---

Freedom is an illusion. For some this truth is more tangible than it is for others.

Undesirables
Determined by Purge type
All Pops of this species will be Purged.

---

State records do not recognize the existence of this species.

Servitude

Robotic species
Not Citizen Rights Artificial Intelligence Policy

The overriding purpose of any machine must be to serve its masters and perform whatever tasks it was designed for, regardless of how intelligent it may be.

---

A toaster will always be a toaster.

Assimilation
Determined by Assimilation type

Not robot or cybernetic
Any of the following:

Pops of this species are altered over time to better match the dominant species of the Empire. Pops that are in the process of being assimilated will not produce any resources.

---

We will add your biological and technological distinctiveness to our own. Your culture will adapt to service us.

Machine Integration
All owned Pops of this species are fully integrated with the Machine Intelligence.

---

Assuming direct control.

Bio-Trophy
50% Pop Growth Reduction
Pops of this species are revered and cared for by the Machine Intelligence, freed from the burdens of responsibility and agency.

---

Glory to organics.
Living standards
Living Standards represents how economically favored a population is, for example whether they benefit from social welfare or have restrictions placed on what kinds of occupations they can be employed in. The higher the living standards of a Pop is, the more Consumer Goods it will use, and the happier the species will be.
Type
 Ruler effects
 Specialist effects
 Worker effects
 Slave effects
Unemployed effects
Requirements
Chemical Bliss
-20% Happiness
 Subdermal Stimulation technology
Academic Privilege
-20% Happiness
Materialist
Utopian Abundance
Egalitarian
Shared Burden
 Shared Burdens
Stratified Economy
-20% Happiness
Social Welfare
+1 Unity
 Shared Burdens
Decent Conditions
-20% Happiness
 Shared Burdens
Basic Subsistence
-20% Happiness
Servitude

Robotic species
Servitude Artificial Intelligence Policy

Non-Existent

Undesirables Rights
Purge is not Neutering or Displacement

Drone
Mandatory Pampering
Hive Dissociation
Identity Sublimation
-50% Happiness
Transubstantiation Synthesis
-25% Happiness
Transcendent Awakening
-25% Happiness
Military service
Military Service determines a species' right to join the military and whether or not they can become commanding officers.
| Type | Effect | Notes | Description |
| --- | --- | --- | --- |
| Full Military Service | Species can produce Armies, Generals and Admirals | | They are doubtlessly among the most competent in our armed forces. |
| Soldiers Only | Species can only produce Armies | | They make excellent soldiers - but command is better left to others. |
| Exempt | Species can not produce military Leaders or be used in Armies | | They serve better away from the battlefield. |
Colonization rights
Colonization Rights determines whether a species is allowed to board colony ships and settle new worlds.
| Type | Description |
| --- | --- |
| Colonization Forbidden | In a vast sea of cold emptiness, a habitable world is the greatest treasure of all. Not all are worthy to seize it. |
| Colonization Allowed | Who are we to deny any species their place among the stars? Together we will drive back the darkness. |
Population controls
Population Controls determines whether a species is allowed to reproduce enough to grow or only enough to ensure it will not die off.
| Type | Notes | Description |
| --- | --- | --- |
| Population Controls Enabled | | Selective reproductive suppression fields are often referred to as the blunt instruments of demography. |
| No populations controls | Always on for primary species | A species that does not propagate itself is at an evolutionary dead end. |
Migration controls
Migration controls determines whether a species is allowed to migrate. It applies both within the empire and towards empires with a

 Migration Treaty.
| Type | Requirement | Description |
| --- | --- | --- |
| Migration Controls Enabled | | The free flow of pops can allocate resources efficiently, but sometimes what is necessary is not efficient. |
| No Migration Controls | Species is not enslaved | Just as our primitive ancestors wandered in search of a home, every being must be free to seek its destiny among the stars. |
Slavery type
The Slavery type determines how a species with the Slaves Citizenship is used. All Slaves use only 0.75

 Amenities, and their

 Political Power is reduced -75%.
Type
Pop Effects
Requirements
Description
Chattel Slavery
+10% Resources from Jobs
-30% Happiness
0.75 Pop Housing Usage

Not  Gestalt Consciousness

Chattel Slaves have increased resource production but cannot be employed in  Ruler or  Specialist Jobs.

---

Chattel Slavery is the most common form of slavery in the galaxy. Whether for life or a limited time, unrestricted access to the labor of others is in some parts seen as a privilege with numerous counter-duties attached, and elsewhere considered a self-evident prerequisite for a functioning society.

Domestic Servitude
-20% Happiness
0.25 Housing when working as a Servant
Domestic Servants that are not holding another job will be employed as Servants, producing +4  Amenities. They cannot perform  Ruler or  Specialist Jobs, with the sole exception of working as Entertainers.

---

Domestic servants spend much of their time tending to the needs of free Pops - some are assigned to individual domiciles, while others tend to public spaces. They tend to live alongside their masters, and thus require almost no dedicated housing.

Battle Thralls
-20% Happiness
+20% Army Damage
0.75 Pop Housing Usage
Battle Thralls have no bonuses to resource production, but make excellent soldiers for local Armies. They cannot perform  Ruler or  Specialist Jobs, with the exception of working as Duelists, Enforcers, and Soldiers.

---

Battle thralls are weaponized serfs, often trained from birth in the martial arts and conditioned for absolute obedience. In exchange for unquestioning military service, they are granted much more autonomy than other slaves and can be employed in a greater variety of jobs.

Livestock
-40% Happiness
0.25 Pop Housing Usage
Livestock Pops can not be employed to produce anything, but are instead regularly culled to produce +4  Food.

---

Livestock is Pops!

Grid Amalgamation
-40% Happiness

 Machine Intelligence

A long-term alternative to Chemical Processing, where enough of the organic population survives the process to continue to power our energy grid indefinitely.

---

Combined with a form of fusion, we have found all the energy we will ever need.
Purge type
The purge type determines how species with the Undesirables Citizenship are purged. Any purge type except Neutering and Displacement runs the risk of causing

 Opinion penalties when interacting with other empires.
Type
Pop Decline Speed
Happiness
Requirements
Description
DLC
Displacement
+100%
−30%
Affected Pops are expelled from the nation over time, left to find refuge outside our borders.

---

It's not that we drive them from their homes. Their homes are simply no longer theirs.

Extermination
+600%
−1000%
Not  Devouring Swarm
Affected Pops are systematically eradicated. This is the fastest form of Purging available.

---

The extermination squads are efficient. The dissolution of entire populations naturally takes time, but they get the job done.

Neutering
Species lifespan
−20%

Not  Gestalt Consciousness

Affected Pops no longer grow and will die out over time, but gain only a moderate  happiness penalty.

---

Think of it as a phasing-out of a people. Our nation goes to meet the future, only some will not be with us.

Forced Labor
+200%
−1000%
Not  Gestalt Consciousness
Affected pops are worked to death and can be used to produce  food or  minerals until their eventual demise.

---

With this final sacrifice, they will at least have been of some use.

Processing
+300%
−1000%

Not  Machine Intelligence

Affected pops are processed into nutrient-rich food sources, boosting  food availability until death.

---

It is a sad but inescapable fact that some are destined to simply fuel the ambitions of their betters.

Chemical Processing
+300%
−1000%
 Machine Intelligence
Affected pops' physiologies are prepared for integration with the energy grid, where the chemical processes that sustain them are redirected to enrich our energy stores. The process is fatal, but death comes slowly.

---

They will soon attain a more efficient form.
References