Technology
Jump to navigation
Jump to search

Please help with verifying or updating older sections of this article. At least some were last verified for
version
1.6.
This article is for the PC version of Stellaris only.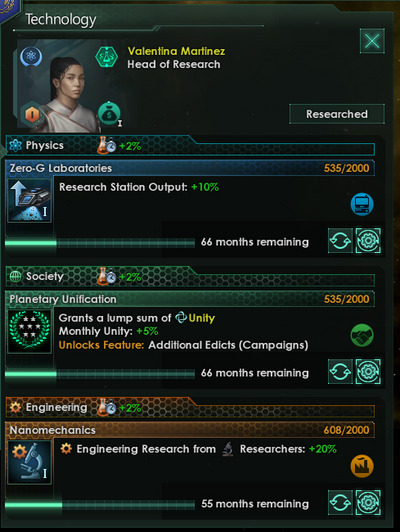 Technology is a central pillar of any interstellar empire. It has allowed them to reach the stars and it will be what allows them to succeed against other empires.
There are roughly 300 technologies in the game, though these will not all be available to the player in a given play-through. Engineering, Physics and Society technologies are researched ("unlocked") separately using different research resources. Unlike previous space strategy games, there is no openly displayed "tech tree"; instead, players are presented with a number of different choices of techs to research. There is still an underlying tech tree structure and prerequisites (for instance, for the Blue Lasers technology to appear for research requires that Red Lasers have been researched) but the 'random draw' nature of research choices introduces a degree of unpredictability that can significantly influence an empire's long and short term strategies.
Research areas & resources
There are three different technology research areas in Stellaris:
Physics Research is concerned with the manipulation of the energy of the universe. Technology from this area unlocks laser weapons, reactors, power plants, sensors, shields, artificial intelligence, and more.
Society Research is concerned with the organization of an empire's civilization. Technology from this area unlocks farming buildings, planet colonization, government options, genetic modification, and more.
Engineering Research is concerned with the application of materials into tools. Technology from this area unlocks mass drivers, missiles, mining buildings, armor, thrusters, military ships and stations, robotic pops, and more.
Every month, an empire produces at least 5 research points for each area; this can be increased by building research stations over appropriate stellar bodies (such as black holes, which can offer Physics research) and by populations working planetary tiles that produce research points (such as laboratories).
Stored research
If a technology is not being presently researched in a certain area then that area's research points are accumulated as Stored Research (can be seen by hovering over the appropriate resource). This prevents the loss of research points by forgetting to pick a tech to research. These storage "banks" can also grow by encountering certain anomalies, completing some special projects, debris analysis or event choices.
When in use the stored research will be depleted by an amount equal to that resource production. For example, if a player has 100 stored point and produces 12 points then the research progress will be 24 points for the first 8 months - 9th month will be 16 points - after which research progress will return to 12 points per month.
The card system
Even though Stellaris does have a conventional tech tree with prerequisites, the player does not have full control over what is available for research at any given moment. Instead, the game presents the player with a quasi-random selection of technologies that may or may not appear later on during a playthrough.
A good analogy for this process is a deck of cards in which each card represents a different technology. When research on a selected tech is completed, the remaining "cards" are placed back into the deck which is then reshuffled. However, in this "shuffling" some cards are weighted to appear more often than others. This is especially common in the early game where some "cards" are extremely likely to appear, to allow all for players to get a fair start. Additionally, an empire's ethos, the leading scientists' traits, the current researched technologies, and other factors can all affect the weighting of technology "cards", and even their overall availability.
It is possible to change research in an area at any time without penalty. Any progress on the technology will be saved, but does not scale if technology costs change. However, when the research alternatives are reshuffled on the completion of research, there is no guarantee that a technology with partial progress will be redrawn.
As a rule a base of 3 alternatives[1] are available with each draw. It is possible to increase this amount by +1 by researching the

Self-Aware Logic technology, or by adopting either the

Technocracy or

Natural Neural Network civic which gives another (stackable) +1 alternative.
Please help with verifying or updating this table. It was last verified for

version

1.9.
| | Population | Governance | Planet | Technology |
| --- | --- | --- | --- | --- |
| +1 | — | | — | Self-Evolving Logic |
Debris
There is one minor exception to the shuffling system: technologies salvaged from studying the debris of enemy ships or spaceborne aliens, as well as some technologies that are made accessible through anomalies or events.
These technologies will remain available to research until completed (any normal prerequisites are waived), and will appear at the bottom of the options list with a yellow-orange border. This can include technologies that are available through normal research, so it can be quite worthwhile to salvage enemy debris to effectively "pin" technologies for later research.
The easiest way to gather these is through battle engagements. Destroyed enemy may leave behind debris special projects, which can then be analyzed by a science ship - note that doing so will halt progress in the indicated research field. Completing these debris special projects grants stored research and a potential research progress (usually +10%) in a certain technology which used to make the destroyed objects' components.
Hidden values
The card system uses several variables to organize technology. These are:
Tier divides technologies into groups (along with unified sub-division for weight and cost). Higher tier technologies require a certain number of technologies from the previous tier to be unlocked before they will be available as research alternatives. The tiers and the required tech from previous tiers (in brackets) are: T0 (this is starter tech), T1 (0), T2 (8), T3 (8), T4 (10).
Weight is the relative chance for a particular technology to be drawn as an alternative and can be further modified by an empire's ethics, the traits of scientists, or already researched technologies. The lower a technology's weight, the less likely it is to be drawn. Generally, weights decrease while costs increase with each tier.
Tiers, weight (and the modifiers affecting it) are hidden values.
Special markings
Aside from marking technologies by their area color there are additional markers to define "special" technologies. These may include a whole different color (regardless of area color), highlighted border or a note to the side.
There is a difference between how the markers are represented in-game and the table below - this is mainly to ease wiki editing (the below colors shows the table marking).
Starting technologies - These technologies are unlocked for free at the beginning of the game. In-game marked with the note Starting tech in green to the left on the title.
Acquired technologies - These are technologies that have some research progress done in them. In-game marked by a highlighted border. Note: the table uses this to mark techs that can be acquired only via events or debris analysis.
Rare technologies - These technologies usually have a low weight compared to other techs with similar cost. In-game marked by the color purple.
Dangerous technologies - Unlocking these technologies may anger other empires and cause an end game crisis. In-game marked by the color red.
Repeatable technologies - These are end-game technologies that can be researched again and again for the same bonus, but cost more each time. In-game marked by a golden line above and below tech.
Scientists
Scientists are leaders that are hired to lead three research areas or to command science ships. An area without a scientist to lead it suffers a –20% research speed penalty.
Each level of the scientist increases research speed to their assigned area by +2%. Scientists often have specialty in a certain research category, adding another +10% bonus when leading the research of technologies from that category, as well as other traits that can increase research speed and cost.
Technology cost
Each technology has a cost to unlock, which must be paid for in research resources. The cost is the pre-set base cost of each technology increased by +10% per owned planet and by +1% for every pop in the empire over 10. Having a research agreement treaty with another empire gives a –25% cost reduction on any technology already unlocked by that empire. This reduction is applied after the Multipliers from Pops and Planets.
Important notes:
Overall, empire research capabilities increases with population size, but with increasingly diminishing returns. For each extra pop and planet the research output will become increasingly inefficient. A large empire will have to relatively put out way more research than a smaller one for a similar result.
Research agreement modifier is applied after all other modifiers. This makes it become better with increasing empire sizes, but the hefty cost reduction makes it crucial at all stages of the game. Do not forget about research agreements as they can give a powerful edge in an arms race.
Technology types
Technology is divided into three types: Physics, Society and Engineering.
As a game progresses, the technology choices for each empire will begin to include progressively more advanced and correspondingly more expensive technologies, meaning that building research labs and stations should be a priority. Technology costs also scale with the size of an empire's population, which makes it possible for small empires to maintain technological parity with larger ones.
Categories
Every technology belongs to a category. These have no direct effects, but assigning a scientist with the corresponding expertise trait will increase research speed by 10% and increases the chance of research alternatives from that category.
| | | | |
| --- | --- | --- | --- |
| Computing | Field Manipulation | Particles | Voidcraft |
| The science of applied algorithms. | Bending fundamental forces to our will. | Isolating and utilizing particulate matter and phenomena. | Space is the final frontier. To master it, is to master the future. |
| Biology | Military Theory | New Worlds | Statecraft |
| The science of life, in its many forms and complexities. | The art of war and its many important aspects. | Colonization protocols and pioneer training. | The art of building a successful society. |
| Industry | Materials | Rocketry | Psionics |
| Ingenuity and productivity. | The creation and manipulation of materials for increased utility and durability. | The study of explosive propulsion. | Mind over matter. |
List of technologies
Legend (Colors): Starter , Acquisition , Rare , Dangerous , Repeatable .
Legend (Icons):

Armies / Attachments ,

Buildings ,

Components ,
Edicts / Policies ,
Feature unlock ,

Modules ,
Resources ,

Ship / Station class .
Engineering
---
| | |
| --- | --- |
| | |
Technology
C
Cost
T
Effects
Prerequisites
Weight & Modifiers
Description
Industrial Base
Mining Network I
The basic industrial infrastructure that is required to become a spacefaring civilization.
Offworld Construction
Construction in space presents our engineers with new design challenges that must be solved before we can build orbital stations above other worlds.
Betharian Refining
360
1
Betharian Power Plant
Base: 200
The Betharian minerals appear to have originated from singular source, but were scattered across the galaxy millennia ago. The minerals are most often encountered as pebble-sized clusters, and are highly flammable.
Geothermal Fracking
360
1
Industrial Base
Base: 100
New fracking techniques will allow us to tap into previously unattainable pockets of geothermal resources deep beneath the planet's crust.
Mineral Processing
360
1
Geothermal Fracking
Base: 100
Optimal processing of mined materials have allowed us to reach new levels of efficiency.
Nanomechanics
360
1
Engineering Facility I
Base: 100
Advanced instrumentation allows for the study and practical application of physical systems at nanometric scales.
Powered Exoskeletons
360
1
Industrial Base
Base: 150
Wearing a powered exoskeleton suit augments the user's strength and speed. The military applications are obvious, but it will also increase labor efficiency.
Assembly Patterns
600
1
+25% Building build speed
Nanomechanics
Base: 50
no description.
Robotic Workers
600
1
Robot
Base: 135
These robotic work units are perfect for menial labor tasks. They are hard-working and capable of following simple vocal instructions, but should not be expected to climb stairs.
Advanced Mineral Processing
1400
2
Base: 70
Second-stage processing of pseudo-refined minerals allow for more efficient storage and transportation.
Deep Core Mining
1400
2
Base: 70
These massive drills are needed to access the rich mineral deposits that can often be found close to a planet's core.
Droids
1400
2
Base: 70
Upgraded robotic workers, these units have an expanded movement range equal to that of most organics. Their neural processors have also been greatly improved.
Supersolid Materials
1400
2
Engineering Facility II
Base: 70
The production and understanding of supersolids are of immeasurable value to any and every space-age civilization.
Construction Templates
2200
2
+50% Building build speed
Assembly Patterns
Base: 45
no description.
Assembly Algorithms
3000
3
+10% Building build speed
Construction Templates
Base: 12.5

Modifiers

0.01x if researching another repeatable tech.

The application of game and puzzle theory has the potential to greatly optimize modular assembly and construction.
Extraction Patterns
3000
3
+5% Minerals
Advanced Mineral Processing
Base: 12.5

Modifiers

0.01x if researching another repeatable tech.

Changes in how mineral deposits are evaluated relative to each other lead to more efficient boring patterns.
Mineral Isolation
4000
3
Base: 45
Advanced spectrometry combines with fracking techniques and chemical flushing to rapidly exploit shallow and mid-depth deposits.
Synthetics
4000
3
Base: 22.5
Highly advanced robots that are stronger, faster and more durable than the vast majority of organics. With their upgraded neural processors they are fully capable of independent operations.
Superfluid Materials
5000
3
Base: 40
The study of superfluidity promises to marry quantum mechanics with the fundamental interaction of gravity.
Synthetic Personality Matrix
5000
3
Can elect synth leaders
Base: 40
Equipped with a personality, synthetics will finally be able to interact socially on equal terms with the rest of our citizens. Some units may even assume leadership roles.
Mass Drivers
360
1
Base: 50
These electromagnetic projectile launchers use magnets to accelerate armor-piercing rounds towards targets at high speeds.
Nanocomposite Materials
480
1
Nanocomposite Armor
Spaceport
Base: 118.75
Reinforced nanocomposite hull plating can provide an extra layer of protection that could be the difference between life and death in a combat situation.
Coilguns
600
1
Coilgun
Mass Drivers
Base: 90
Coilguns are more powerful versions of the early mass drivers, using electromagnetic coils to rapidly accelerate projectiles towards targets.
Garanthium Mining
600
1
Garanthium Ore
Base: 180
Establishing successful Garanthium quarries poses unique challenges, as the malleable qualities of the ore make it as difficult to mine as it is attractive.
Orillium Extraction
600
1
Orillium Ore
Base: 180
Stabilization beams allow relatively safe extraction of volatile Orillium ores.
Teldar Crystal Mining
600
1
Teldar Crystals
Base: 180
Teldar crystals emanate tell-tale wavelengths of light outside the visible spectrum.
Yurantic Crystal Mining
600
1
Yurantic Crystals
Base: 180
Yurantic crystals have rare reflective properties that enhance the effectiveness of energy weapons.
Ceramo-Metal Materials
720
1
Ceramo-Metal Armor
Nanocomposite Materials
Base: 106.25
A combination of different metals and ceramics that result in a strong armor without sacrificing flexibility.
Autocannons
1000
2
Autocannon
Coilguns
Base: 75
Large-caliber ballistic weapons that fire cased explosive shells. The main advantage of these cannons is their high rate of fire.
Railguns
1000
2
Railgun
Coilguns
Base: 75
The latest in electromagnetic accelerators, railguns use twin parallel rails to fire projectiles at incredible speeds.
Crystal-Infused Plating
1400
1
Crystal-Infused Plating
Debris analysis outcome (Crystalline Entities)
Base: 0

Modifiers

+5 if has country flag crystal_armor_1_weight.

This incredibly dense and strong material can resist firepower that would turn armor made of any other alloys into slag.
Plasteel Materials
1400
2
Plasteel Armor
Ceramo-Metal Materials
Base: 87.5
Plasteel is an elastic material that combines many of the qualities of plastics and metal. It is relatively cheap to produce and can be used to augment ship armor.
Advanced Railguns
1800
2
Advanced Railgun
Railguns
Base: 65
A new version of the venerable railgun, with sturdier rails and an enhanced power supply. These weapons are even more powerful and accurate than their predecessors.
Flak Battery
1800
2
Flak Battery
Ripper Cannons
Base: 65
Gun batteries that fire area effect shrapnel rounds at close range. They are particularly lethal to enemy strike craft, but can also inflict damage on larger ships.
Ripper Cannons
1800
2
Ripper Autocannon
Autocannon
Base: 65
These upgraded rotary autocannons feature improved tracking and fire control systems. This allows them to maintain an even higher rate of fire.
Durasteel Materials
2200
2
Durasteel Armor
Plasteel Materials
Base: 75
This strong yet flexible material is capable of withstanding severe punishment. It serves well as ship armor.
Flak Artillery
3000
3
Flak Artillery
Flak Battery
Base: 50
Upgraded flak batteries with new, more powerful shrapnel rounds. They offer excellent defense against both strike craft and missiles.
Gauss Cannons
3000
3
Gauss Cannon
Advanced Railguns
Base: 50
This updated version of the old coilgun design is even more destructive than the latest railgun designs. It is capable of launching projectiles with incredible accuracy and speed.
High-Density Munitions
3000
3
+5% Kinetic weapon damage
Railguns
Base: 12.5

Modifiers

0.01x if researching another repeatable tech.

Ultra-dense slugs can punch through even the strongest of projected shields.
Kinetic Battery
3000
3
Kinetic Battery
Advanced Railguns
Base: 50
Very long-range artillery capable of hurling powerful rounds over extreme distances with a large degree of accuracy.
Loader Efficiency
3000
3
+5% Kinetic weapon attack speed
Railguns
Base: 12.5

Modifiers

0.01x if researching another repeatable tech.

Minor technical advances combine with improved shipboard routines for handling munitions to provide a noticeable boost in fire rate.
Matter Compression
3000
3
+5% Ship armor
Plasteel Materials
Base: 12.5

Modifiers

0.01x if researching another repeatable tech.

Compressing suitable materials into ultra-dense forms is a cheap and efficient way to improve their ability to absorb weapons-grade impacts.
Stormfire Cannons
3000
3
Stormfire Autocannon
Ripper Cannons
Base: 50
Advanced rotary autocannons capable of spewing a cloud of armor-piercing and high-explosive shells at a target.
Crystal-Forged Plating
4000
3
Crystal-Forged Plating
Debris analysis outcome (Crystalline Entities)
Introducing Crystalline matter into the forging process further improves the ultra-hard qualities of crystal-infused metals.
Mega Cannon
4000
3
Mega Cannon
Base: 45
An enormous mass accelerator cannon that can only be placed in a spinal mount and fires monstrously powerful rounds over vast distances.
Kinetic Artillery
5000
3
Kinetic Artillery
Kinetic Battery
Base: 40
An even more powerful long-range, ship-based artillery cannon, equipped with a new barrel and an upgraded fire control computer.
Neutronium Materials
5000
3
Neutronium Armor
Base: 50
This incredibly dense and strong material can resist firepower that would turn armor made of any other alloys into slag.
Giga Cannon
6000
3
Giga Cannon
Mega Cannon
Base: 35
An even more powerful mass accelerator cannon that can rip through even the toughest shields.
Living Metal
6000
3
Living Metal
Mining and processing the rare living metals is exceedingly difficult, but successful application of the mutable alloys yields incomparable advantages.
Artificial Dragonscales
7000
3
Dragonscale Armor
Event chain outcome (Ether Drake)
The Ether Drake's scales are made up of multiple layers of unique mineral nanostructures. Unorthodox manufacturing techniques allow us to closely emulate these self-repairing structures.
Chemical Thrusters
Chemical Thruster
Simple yet moderately effective chemical thrusters that rely on combustible propellant to function.
Ion Thrusters
360
1
Ion Thruster
Chemical Thrusters
Base: 125
These electric thrusters use beams of ions to generate thrust without the need for propellant.
Nuclear Missiles
360
1
Base: 50
Space-to-space missiles equipped with high-yield nuclear warheads. Although based on old pre-space technology, these crude fire-and-forget weapons can be surprisingly effective at range.
Space Torpedoes
480
1
Space Torpedoes
Fusion Missiles
Base: 95
These torpedoes are essentially very large, slow-moving missiles. They are equipped with more powerful warheads and shield modulators that let them slip unmolested through energy screens.
Fusion Missiles
600
1
Fusion Missiles
Nuclear Missiles
Base: 90
These updated space-to-space missiles have more powerful fusion warheads and improved flight performance.
Afterburners
1000
2
Afterburners
Ion Thrusters
Base: 93.75
These powerful thrusters provide additional combat speed but consume a great deal of power.
Antimatter Missiles
1000
2
Antimatter Missiles
Fusion Missiles
Base: 75
Advanced missiles equipped with very powerful antimatter warheads. A new and improved guidance system gives them a better chance of finding their targets.
Plasma Thrusters
1000
2
Plasma Thruster
Ion Thrusters
Base: 93.75
An advanced form of electric propulsion, plasma thrusters afford ships greater sublight speeds and maneuverability.
Swarmer Missiles
1000
2
Swarmer Missiles
Quantum Missiles
Base: 75
These smaller missiles are launched in volleys and have been specifically designed to overwhelm enemy point-defense systems.
Armored Torpedoes
1400
2
Armored Torpedoes
Space Torpedoes
Base: 70
Upgraded space torpedoes encased in armor, to better withstand enemy point-defense fire. The armor fragments into shards that cause additional damage when the torpedo detonates.
Quantum Missiles
1800
2
Quantum Missiles
Antimatter Missiles
Base: 65
The latest version of space-to-space missile, this upgraded variant has an immensely powerful warhead that draws its energy from a zero point vacuum.
Advanced Afterburners
3000
3
Advanced Afterburners
Base: 62.5
This improved version of the standard afterburners provide an even greater boost to a ship's combat speed.
Impulse Thrusters
3000
3
Impulse Thruster
Plasma Thrusters
Base: 62.5
These highly advanced fusion-powered thrusters provide ships with unmatched maneuverability and speed under sublight conditions.
Marauder Missiles
3000
3
Marauder Missiles
Quantum Missiles
Base: 50
These highly advanced missiles are equipped with limited onboard AI pilots that substantially improve their performance and ability to track targets.
Miniaturized Pre-Igniters
3000
3
+5% Explosive weapon attack speed
Antimatter Missiles
Base: 12.5

Modifiers

0.01x if researching another repeatable tech.

Advances in miniaturization allow for more rapid loading and discharging of rocket-propelled payloads.
Thermodynamic Yield Control
3000
3
+5% Explosive weapon damage
Antimatter Missiles
Base: 12.5

Modifiers

0.01x if researching another repeatable tech.

With the chemical reaction tightly controlled by missile-board microprocessors, warhead detonations can be tuned for maximum effect for local conditions at the time of impact.
Whirlwind Missiles
3000
3
Whirlwind Missiles
Swarmer Missiles
Base: 50
New miniaturization techniques will allow us to equip swarmer missiles with more powerful warheads and improved flight performance.
Devastator Torpedoes
4000
3
Devastator Torpedoes
Armored Torpedoes
Base: 45
Advanced torpedoes with very powerful warheads. They have a sleeker design, faster engines and upgraded shield modulators for slipping through energy screens.
Deep Space Outposts
Defense Platform
Offworld Construction
This will enable the construction of defensive deep space platforms far from the gravity wells of a planetary body.
Interplanetary Expeditionary Forces
Assault Army
Planetary Defenses
The invasion of another world is a staggering enterprise. There are immense logistical challenges that must be overcome before we can muster our first interplanetary armies.
Spaceport
The spaceport is a planet's foothold in space, a center for trade and commerce as well as home base for military and civilian vessels.
Improved Spaceport
600
1
Offworld Construction
Base: 90
Enhancements to artificial gravity and life support systems allow for further expansion of orbital facilities.
Carrier Operations
1000
2
Cruisers
Base: 75
These manned, short-range strike craft are launched from a mothership and rely on their speed and small size to survive long enough to punch through enemy defenses.
Deep Space Stations
1000
2
Defense Station
Deep Space Outposts
Base: 75
New construction methods will allow for the construction of even larger military stations in the depths of space.
Destroyers
1000
2
Improved Spaceport
Base: 75
Expanded dry-docks allow for the construction of Destroyer-class military vessels.
Standardized Cruiser Patterns
1000
2
Cruiser Assembly Yards
Cruisers
Base: 75
Establishing new standards for the modeling and construction of cruisers greatly improves the efficiency of the production pipeline.
Advanced Spaceport
1400
2
Destroyers
Base: 70
State-of-the-art orbital construction techniques result in spaceports the size of major planet side cities.
Improved Strike Craft
1400
2
Carrier Operations
Base: 70
The next generation of strike craft, featuring improved avionics, better handling characteristics and more powerful armaments.
Corps of Engineers
1800
2

–15% Military station build cost
+25% Military station health

Deep Space Stations
Base: 32.5
The creation of a dedicated naval engineering corps will greatly benefit the construction of deep space defense platforms, decreasing building costs and increasing durability.
Advanced Strike Craft
2200
2
Improved Strike Craft
Base: 60
A further refinement in strike craft design, these advanced fighters and bombers are a pilot's dream. Their performance far exceeds that of previous models.
Cruisers
2200
2
Advanced Spaceport
Base: 60
Expanded dry-docks allow for the construction of Cruiser-class military vessels.
Standardized Battleship Patterns
2200
2
Battleship Assembly Yards
Battleships
Base: 60
Establishing new standards for how we design and construct massive battleship greatly improves the speed at which they can be assembled.
Deep Space Installations
3000
3
Fortress
Deep Space Stations
Base: 50
These massive installations are like cities floating in space. They can support a crew of thousands, and are often equipped with firepower rivaling that of a fleet.
Fortified Core Layers
3000
3
+10% Military station health
Deep Space Stations
Base: 12.5

Modifiers

0.01x if researching another repeatable tech.

Additional layers of armor plating within the structure itself improves the resilience of Military Stations.
Heat Recyclers
3000
3
+10% Strike craft attack speed
Cruisers
Base: 12.5

Modifiers

0.01x if researching another repeatable tech.

Circulating excess heat from weapons discharge in order to prime munitions as they are loaded increases the rate of fire of strike craft weaponry.
Hull Integrity
3000
3
+5% Ship health
Advanced Spaceport
Base: 12.5

Modifiers

0.01x if researching another repeatable tech.

Further increasing compartmentalization of shipboard spaces allows ships to sustain more damage before hull integrity reaches critically low levels.
Synapse Interceptors
3000
3
+10% Strike craft damage
Cruisers
Base: 12.5

Modifiers

0.01x if researching another repeatable tech.

Increasing the speed at which fighter pilots can process and act upon enemy positioning data elevates strike craft a few steps up the food chain.
Synchronized Firing Patterns
3000
3
+10% Military station damage
Deep Space Stations
Base: 12.5

Modifiers

0.01x if researching another repeatable tech.

Cross-linking weapon systems to fire in staggered volleys improves the actual damage output of Military Stations over time.
Battleships
4000
3
Cruisers
Base: 45
Expanded dry-docks allow for the construction of Battleship-class military vessels.
Mega-Engineering
10000
4
Base: 7.5
To complete constructing projects of truly staggering scales we must first achieve a fundamental understanding of both the engineering and resource storage requirements for such megastructures.
Physics
---
| | |
| --- | --- |
| | |
Technology
C
Cost
T
Effects
Prerequisites
Weight & Modifiers
Description
Scientific Method
Basic Science Lab I
Testable predictions of observable phenomena.
Administrative AI
360
1
+5% Research speed
Scientific Method
Base: 100
Organizational circuitry rerouting academic.
Databank Uplinks
360
1
Assist Research
Base: 100
High-capacity quantum bands dedicated to databank transfers make possible virtually completely synchronous research operations across vast distances.
Quantum Theory
360
1
Physics Lab I
Base: 100
Exploring the mediation of fundamental forces through subatomic particles.
Active Countermeasures
480
1
Sentinel Point-Defense
Administrative AI
Base: 95
The best defense is a good offense.
Specialized Combat Computers
480
1
Basic Combat Roles
Administrative AI
Base: 95
Active matrices tuned for specific combat-centric tasks greatly improve engagement efficiency.
Synchronized Defenses
480
1
Synchronized Defenses
Administrative AI
Base: 47.5
Aligning defensive and offensive weapon execution paradigms allows for increased efficiency.
AI-Controlled Colony Ships
600
1
Base: 90
By giving control of the colony ship to an Artificial Intelligence, the crew and colonists can be suspended in a deep sleep.
Curator Archeology Lab
720
1
Curator Archeology Lab
Base: 85
A shipboard lab with advanced archaeological equipment, including a vast database supplied by the Curator Order where new discoveries can easily be cross-referenced.
Curator Exploration Lab
720
1
Curator Exploration Lab
Base: 85
These shipboard lab facilities incorporates advanced technologies from the ancient Curator Order to further increase survey speeds.
Automated Exploration Protocols
1000
2
Administrative AI
Base: 75

Modifiers

An advanced AI will aid science officers in their task to explore strange new worlds, to seek out new life and new civilizations, to boldly go where no Blorg has gone before. The Science Ship will be able to explore the galaxy with help from an AI.
Self-Aware Colony Ships
1000
2
Base: 75
Sufficiently advanced systems are capable of optimizing themselves if they are made acutely aware of the purpose for which they were made.
Self-Aware Logic
1000
2
+1 Research alternatives
Administrative AI
Base: 75
Introspective prioritization.
Uplink Miniaturization
1000
2
Improved Assist Research
Databank Uplinks
Base: 75
Miniaturization of the endpoint transmitters allow for installing them in clusters, further increasing bandwidth.
Applied Quantum Physics
1400
2
Physics Lab II
Base: 70
The seemingly erratic behavior of tiny things can dramatically alter the way we think about bigger things.
Extended Combat Algorithms
1400
2
Advanced Combat Roles
Base: 70
Further advances in predictive algorithms allow for augmented tactical decision-making in the field.
Interlinked Support Systems
1400
2
Barrier Point-Defense
Active Countermeasures
Base: 70
Arrays of defensive armaments prove much more effective than independent countermeasures.
Sentient AI
2200
3
+10% Research speed
Self-Aware Logic
Base: 30
Evolving intellects advance science not only as subjects of study, but as researchers themselves.
Gravitational Analysis
3000
3
–5% Building cost
Applied Quantum Physics
Base: 12.5

Modifiers

0.01x if researching another repeatable tech.

Increasingly powerful computation paradigms allow us to adapt individual construction projects to planetary and ultra-local gravitational conditions.
Sentient Combat Simulations
3000
3
Sentient Combat AI
Base: 25
Running sentient AIs through high-intensity combat simulations yields valuable insight into potential optimizations for risk-evaluation techniques.
Predictive Algorithms
5000
3
Guardian Point-Defense
Interlinked Support Systems
Base: 40
Advanced prediction greatly increases the accuracy of active countermeasure systems.
Space-Time Theory
5000
3
Base: 40
Three dimensions, inextricable from the fourth.
Enigmatic Decoder
7000
3
Enigmatic Decoder
Event chain outcome (Enigmatic Fortress)
While producing average results in standard tests, the accuracy of Enigmatic Decoder's prediction algorithms seemingly increases as the target's flight path grows more erratic.
Enigmatic Encoder
7000
3
Enigmatic Encoder
Event chain outcome (Enigmatic Fortress)
The Enigmatic Encoder scrambles flight path data according to some indeterminable design before feeding it back to fleet command.
Ascension Theory
8000
4
+1 Ascension perks
Base: 17.5
Our history is a repeating cycle of dramatic technological, political, and cultural leaps; these leaps are often preceded by periods of upheaval and followed by times of relative stability. By identifying the core, recurring premises of these leaps, we may be able to effectively short-circuit the cycle for our own benefit.
Subspace Wormholes
Wormhole Station
By tunneling directly through subspace, a temporary conduit can be established between two different points in normal space. Travel between these points would be near instantaneous.
Warp Travel
Warp Drive I
By enveloping a vessel in a warp field and forming a subspace bubble around it, velocities exceeding the speed of light are theoretically possible.
Deflectors
360
1
Base: 125
Energy deflector screens can stop a limited amount of incoming enemy fire before overloading. Their main drawback is that they consume large amounts of power.
Lythuric Gas Refining
600
1
Lythuric Gas
Base: 180
Small concentration of this gas has been shown to significantly strengthen the integrity of energy force fields. It also has a dulling effect on the minds of creatures exposed to the gas.
Improved Deflectors
600
1
Deflectors
Base: 112.5
These updated deflector screens are capable of soaking up even more punishment before they overload.
Planetary Shields
720
1
Planetary Shield Generator
Improved Deflectors
Base: 42.5
Generating a strong energy shield within a planetary atmosphere is a greater challenge than in the vacuum of space, but it offers a potent defense against orbital bombardment.
Shields
1000
2
Improved Deflectors
Base: 93.75
These new shield generators represent the next generation of energy screens, replacing the older deflector technology. They offer significantly better protection.
Warp Field Stabilizers
1000
2
Warp Drive II
Warp Travel
Base: 75
Improved stabilization techniques for warp fields will enable our ships to travel farther while expending less energy.
Wormhole Calibration Matrix
1000
2

+25% Wormhole generation rate
+50% Wormhole range

Subspace Wormholes
Base: 75
The creation of a stable wormhole takes time and requires massive amounts of energy, but the process can be streamlined with the use of special calibrators.
Shield Capacitors
1400
2
Shield Capacitor
Shields
Base: 70
These capacitors store surplus energy which can quickly be transferred in the event of shield failure. This will greatly increase the rate at which shields recharge.
Advanced Shields
1800
2
Shields
Base: 81.25
An updated shield generator that produces an even stronger energy field. Only sustained enemy fire can penetrate this barrier.
Capacitor Fields
2200
2
Capacitor Fields
Advanced Shields
Base: 30
Localized fields of charged particles can energize depleted shield capacitors.
Quantum Destabilizer
2200
2
Quantum Destabilizer
Shields
Base: 30
Quantum Destabilizers agitate the local quantum field, disturbing sensitive targeting equipment aboard hostile ships.
Jump Drive
3000
3
Jump Drive
Zero Point Power
Base: 5
A groundbreaking technological marvel, the Jump Drive shreds the local space-time continuum and rearranges it on the quantum level to be identical to that of the target destination - and thus the ship appears to near-instantly "jump" from system to system.
Shield Harmonics
3000
3
+5% Shield hit points
Advanced Shields
Base: 12.5

Modifiers

0.01x if researching another repeatable tech.

The basic mechanics of ship shields are complex, but they can be adjusted and improved in a multitude of ways.
Warp Drive Ramscoops
3000
3
Warp Drive III
Warp Field Stabilizers
Base: 50
These revolutionary ramscoops are attached to warp drives and function as particle collectors, replenishing a starship's fuel supply.
Wormhole Containment Fields
3000
3

+25% Wormhole generation rate
+50% Wormhole range

Wormhole Calibration Matrix
Base: 50
These containment fields allow for the creation of more powerful wormholes without the risk of triggering a sudden subspace energy cascade.
Dark Matter Drawing
4000
3
Dark Matter
Tachyon Sensors
Base: 45
This exotic substance has many properties that seemingly defy the laws of physics. Harvestable concentrations can only be found near Black Holes or in certain nebulas.
Hyper Shields
4000
3
Advanced Shields
Base: 56.25
These reinforced and hardened energy shields are incredibly powerful. The protection they offer is second to none.
Enigmatic Deflectors
7000
3
Enigmatic Deflector
Event chain outcome (Enigmatic Fortress)
These deflectors operate in ways that seem to defy the laws of nature. Somehow they can manage to muster a protective field many times greater than what could seem possible.
Enigmatic Disruption Field
7000
3
Enigmatic Disruption Field
Event chain outcome (Enigmatic Fortress)
By flooding a localized area with weak, randomly-modulated electromagnetic pulses, enemy shield and weapons systems can be partially disrupted.
Fission Power
Fission Reactor
This energy source generates power through induced fission, but it also produces harmful nuclear waste.
High-Energy Capacitors
Power Plant I
Capacitors capable of storing vast amounts of energy is one of the cornerstones for any modern civilization.
Field Modulation
360
1
High-Energy Capacitors
Base: 100
Modulated fields allow for increased production and improved energy yield.
Global Energy Management
360
1
High-Energy Capacitors
Base: 100
Load-balancing facilities can greatly improve the stability of local grids and feed excess power back into centralized capacitors.
Orbital Energy Conversion
360
1
Solar Panel Network
Offworld Construction
Base: 100
Advances in solar panel technology could potentially reduce the operating costs of our spaceports. The panels would require an entire spaceport module to generate enough energy, however.
Quantum Energy States
720
1
Base: 85
Basic entanglement principles applied to energy generation provide a substantial increase in energy output.
Planetary Power Grid
1400
2
Base: 70
A re-engineered and unified grid further reduces energy losses over distance.
Applied Superconductivity
3000
3
+5% Energy credits
Quantum Energy States
Base: 12.5

Modifiers

0.01x if researching another repeatable tech.

Minor improvements to transmission efficiency adds up to a sizeable reduction in overall energy loss.
Entropic Recursion
4000
3
Spiral-Feed Power Hub
Event chain outcome (Horizon Signal)
The universe tends irresistibly onwards and downwards. That tendency cannot be reversed... but it can be subverted, for a price.
Quantum Field Manipulation
4000
3
Base: 45
Quantum superposition of energy coils, simultaneously drained and charged.
Satramene Refining
1000
2
Satramene Gas
Subspace Sensors
Base: 150
This gas is a naturally occuring stimulant found on some worlds. It has a calming effect on most beings, and can be used as a non-violent way of pacifying hostile individuals.
Neutronium Extraction
4000
3
Neutronium Ore
Tachyon Sensors
Base: 90
Neutronium is a super-dense substance composed of neutrons that can be forged into extremely resistant and durable armor.
Hyperspace Travel
Like the strands of a spider web, the extra-dimensional realm of hyperspace runs between the gravity wells of most stars. Faster than light travel is theoretically possible along these hyperlanes.
Red Lasers
360
1
Base: 50
Laser weapons fire focused beams of light at targets, causing damage through the generation of intense heat.
Blue Crystal Capacitors
480
1
Blue Shard Thrower
Crystalline Entities store stellar radiation within their prismatic bodies and can focus it to emit laser-like beams. Using the sapphire type's prismatic pattern as a base we can construct laser capacitors that produce energy at a similar wavelength.
Fusion Power
480
1
Fission Power
Base: 142.5
Nuclear fusion processes generate a great amount of power, but without many of the risks associated with fission power.
Blue Lasers
600
1
Blue Laser
Red Lasers
Base: 90
More powerful than red lasers, these blue variants emit electromagnetic radiation at a wavelength that appears blue or violet to most organics.
Green Crystal Capacitors
720
1
Green Shard Thrower
Crystalline Entities store stellar radiation within their prismatic bodies and can focus it to emit laser-like beams. Using the emerald type's prismatic pattern as a base we can construct laser capacitors that produce energy at a similar wavelength.
Mining Drone Lasers
720
1
Mining Drone Lasers
Debris analysis outcome (Ancient Mining Drone)
Using strong-focus lenses in combination with an oscillating firing frequence help create lasers strong enough to mine asteroids, or shoot down hostiles.
Cold Fusion Power
1000
2
Fusion Power
Base: 112.5
The ability to sustain a fusion reaction at relatively low temperatures will result in a new generation of fusion reactors.
Disruptors
1000
2
Disruptor
Base: 75
Disruptors fire high-energy bolts that weaken and destroy the molecular bonds that hold the target's constituent atoms together. They are particularly effective against shields.
Hyperlane Breach Points
1000
2
Hyperdrive II
Hyperspace Travel
Base: 75
We have identified the existence of points in space where a ship expends less energy to "breach" their way into a hyperlane. This will lead to a new generation of hyper drives.
Hyperlane Mapping
1000
2
Hyperlane Mapping
Hyperspace Travel
Base: 37.5
Although we do not travel through hyperspace, mapping the galaxy's extensive hyperlane network gives us a clear advantage against those who do.
Plasma Throwers
1000
2
Plasma Thrower
Base: 75
Weapons that eject destructive balls of high-energy plasma at targets. These plasma projectiles are extremely effective at eating through ship armor.
UV Lasers
1000
2
UV Laser
Blue Lasers
Base: 75
Ultraviolet lasers are an updated and more powerful version of their blue predecessors. Accurate and destructive, these weapons are capable of inflicting great damage.
Cloud Lightning Conduits
1400
2
Cloud Lightning
Debris analysis outcome (Void Clouds)
Void Clouds use the electrical charges generated by the dense gases that make up most of their core to release bolts of burning plasma. Using the same gas composition together with a specialized conduit allows for powerful lightning weaponry.
Proton Torpedoes
1400
2
Proton Torpedoes
Disruptors
Base: 70
These energy torpedoes consist of tightly concentrated protons, and they are capable of completely penetrating deflector screens or shield systems.
Yellow Crystal Capacitors
1400
2
Yellow Shard Thrower
Crystalline Entities store stellar radiation within their prismatic bodies and can focus it to emit laser-like beams. Using the topaz type's prismatic pattern as a base we can construct laser capacitors that produce energy at a similar wavelength.
Ion Disruptors
1800
2
Ion Disruptor
Disruptors
Base: 65
These upgraded disruptors fire bolts of more destructive ion particles at targets.
Plasma Accelerators
1800
2
Plasma Accelerator
Plasma Throwers
Base: 65
These new accelerators launch projectiles of high-energy plasma with improved containment fields. This results in less energy leakage as the projectile travels in space towards its target.
X-Ray Lasers
1800
2
X-Ray Laser
UV Lasers
Base: 65
These lasers have a shorter wavelength than UV-based laser weaponry, but are even more destructive.
Red Crystal Capacitors
2200
2
Red Shard Thrower
Crystalline Entities store stellar radiation within their prismatic bodies and can focus it to emit laser-like beams. Using the ruby type's prismatic pattern as a base we can construct laser capacitors that produce energy at a similar wavelength.
Antimatter Power
3000
3
Cold Fusion Power
Base: 75
By harnessing the energy produced by matter/antimatter annihilations, our efficiency at generating power will be orders of magnitude better than fusion.
Flash Coolant
3000
3
+5% Energy weapon attack speed
Blue Lasers
Base: 12.5

Modifiers

0.01x if researching another repeatable tech.

New developments in tech cooling regularly surface, improving the stability and efficiency of our weapons systems, keeping them from blowing up the ships upon which they are mounted.
Focusing Arrays
3000
3
+5% Energy weapon damage
X-Ray Lasers
Base: 12.5

Modifiers

0.01x if researching another repeatable tech.

Perfecting the firing cadence of laser weaponry is a task that could keep the engineering elite of any given planet busy for centuries.
Hyperspace Slipstreams
3000
3
Hyperdrive III
Hyperlane Breach Points
Base: 50
A new generation of hyper drives capable of accessing the subspace slipstreams that are present within hyperspace. This leads to dramatically improved drive performance.
Gamma Lasers
3000
3
Gamma Laser
X-Ray Lasers
Base: 50
The electromagnetic radiation emitted by gamma lasers is of an extremely high frequency. Their destructive potential is unmatched in the field of laser weapons.
Neutron Torpedoes
3000
3
Neutron Torpedoes
Proton Torpedoes
Base: 50
Upgraded energy torpedoes that rely on neutrons instead of protons for their destructive power. Like their predecessors, they cannot be stopped by energy shields.
Particle Lances
3000
3
Particle Lance
Base: 50
These heavy energy weapons fire focused particle beams that cause massive damage. The size of the emitter arrays limits their use to large turret mounts.
Phase Disruptors
3000
3
Phase Disruptor
Ion Disruptors
Base: 50
Extremely high-yield disruptors that fire quantum energy charges causing incredible damage to those unfortunate enough to get in their way.
Plasma Cannons
3000
3
Plasma Cannon
Plasma Accelerators
Base: 50
The latest in plasma weaponry, these cannons are fully militarized versions of the older, somewhat improvised plasma throwers. Their plasma projectiles are even deadlier.
Arc Emitters
4000
3
Arc Emitter
Base: 45
Powerful weapons that launch a lightning arc of chaotic energy at targets, which in part can ignore armor and shields.
Extradimensional Weaponry
6000
3
Matter Disintegrator

Has the modifier Covenant: End of the Cycle
Debris analysis outcome (Unbidden)

Applying 5th-dimensional energy manipulation principles on lower dimensional planes allows for the creation of powerful energy weapons.
Focused Arc Emitters
6000
3
Focused Arc Emitter
Arc Emitters
Base: 35
These upgraded emitters are equipped with better focusing lenses, resulting in a more powerful energy discharge.
Tachyon Lances
6000
3
Tachyon Lance
Particle Lances
Base: 35
A more powerful version of the particle lance, this weapon fires a tachyon beam of immense power. Like its predecessor, its use is limited to large turrets.
Zero Point Power
6000
3
Antimatter Power
Base: 52.5
These generators extract vacuum energy, providing an almost limitless supply of power. There is no more efficient way to generate energy.
Enigmatic Power Generation
7000
3
Enigmatic Power Core
Event chain outcome (Enigmatic Fortress)
These generators cause particles to interact with each other in ways that seem to defy nature. Somehow they can put out more power than what would seem possible.
Zro Distillation
2200
2
Zro
Subspace Sensors
Base: 60
An extremely rare aerosol of exotic particles. It has been deposited on a number of worlds through meteor impacts, but its true origin is a mystery. If ingested by psonically-gifted individuals, Zro acts as a very potent (and addictive) drug that enhances Psi abilities.
Psionic Shields
6000
3
Psionic Shields
These extremely powerful shields are generated out of pure psychic energy by a cadre of psionic specialists. Their powers are further augmented by large arrays of psi emitters.
Interplanetary Research Initiative
4000
2
Base: 22.5
A bid for interplanetary resource pools and more flexible research grants.
Gravitic Sensors
360
1
Base: 100
These sensors have been tuned to look for any gravitational changes in space, such as those produced by the presence of a starship.
Orbital Sensor Arrays
480
1
Observatory
Gravitic Sensors
Base: 47.5
Powerful sensor arrays that can be added to the structure of orbital spaceports. They provide excellent sensor coverage of the surrounding region of space.
Subspace Sensors
1000
2
Gravitic Sensors
Base: 75
Sensors that detect the subspace fluctuations left in the wake of traveling starships. Their sensitivity and range is greater than that of a gravitic sensor array.
Planetary Signal Boosters
3000
3
+10% Planet sensor range
Subspace Sensors
Base: 12.5

Modifiers

0.01x if researching another repeatable tech.

As our fleets roam every further from our ancestral home, our sensor technology continuously pushes past the limits of old.
Tachyon Sensors
3000
3
Subspace Sensors
Base: 50
Advanced sensors that rely on rotating tachyon beams to detect ship movements even at extreme distances.
Omega Theory
4000
3
Omega Alignment
Base: 1
When a temporal paradox becomes tangled, a kind of consciousness arises, with its own needs, its own desires. This is what has occurred with the consciousness that some call the Worm-in-Waiting. If we can align ourselves with that consciousness, we might just achieve a kind of immortality.
Society
---
| | |
| --- | --- |
| | |
Technology
C
Cost
T
Effects
Prerequisites
Weight & Modifiers
Description
Hydroponics
Hydroponics Farm I
Large-scale hydroponics farms producing nutrient-rich produce helps sustain a growing population while minimizing negative environmental impact.
Biodiversity Studies
360
1
Biolab I
Base: 100
Studying the different forms of life that appear on our world helps us better understand ourselves and the life that surrounds us.
Eco Simulation
360
1
Hydroponics
Base: 100
Hydroponics techniques can be further developed by creating farms with unique atmospheres, simulating different eco systems. This allows for the production of food with higher levels of nutrients.
Genome Mapping
360
1
+10% Growth speed
Base: 150
Mapping the genome of an individual through the sequencing of their DNA opens up for tailored medical treatments and therapies.
52px
Orbital Hydroponics
360
1
Orbital Hydroponic Farms
Hydroponics
Base: 100
The challenges inherent in cultivating crops in zero-G are fairly unique, but far from insurmountable.
Frontier Health
480
1
Frontier Clinic
Base: 190
The colonization of alien worlds has opened up an entirely new field of biomedical research.
Xenology
480
1
Xeno Zoo
Has Alien Pets resource on an owned planet
Base: 95
Studying the fauna of other worlds gives insight into alien behaviors, allowing us to identify and domesticate docile entities.
Engos Vapor Refining
600
1
Engos Vapor
Base: 180
A naturally occurring stimulant that helps all forms of life adapt and evolve. It can also be used as a very potent conductor for energy weapons.
Frequency Tuning
600
1
Energy Siphon
Debris analysis outcome (Tiyanki)
Adapting the Tiyanki method of siphoning energy from gaseous matter, it is possible to construct weapons draining energy from enemy ships.
Pitharan Dust Refining
600
1
Pitharan Dust
Base: 180
This fine dust is a naturally occurring stimulant found on some worlds. It has a calming effect on most beings, and can be used as a non-violent way of pacifying hostile individuals.
Epigenetic Triggers
720
2
Uplift
Base: 85
Advanced DNA methylation techniques allow for functionally significant alterations to be made to arbitrary genomes.
Cloning
1000
2
Vitality Boosters
Base: 112.5
Mapping the genome of an individual through the sequencing of their DNA opens up for tailored medical treatments and therapies.
Frontier Hospital
1000
2
Frontier Hospital
Frontier Health
Base: 150
As a colony grows, so does its medical needs. Larger colonies are potentially exposed to more dangerous pathogens on alien worlds.
Vitality Boosters
1000
2
+10 Leader lifespan
Genome Mapping
Base: 112.5
no description available.
Gene Banks
1400
2
Clone Commandos
Cloning
Base: 35
Gene Banks filter and curate available genomes for deployment in clones.
Gene Crops
1400
2
Hydroponics Farm III
Base: 70
Sophisticated genetic engineering of crops helps increase yield and further improves both taste and nutrient levels.
Xenobiology
1400
2
Biolab II
Base: 70
Studying the life that arises on other worlds and beyond allows us to understand fundamental aspects of biology that were previously beyond our reach.
Morphogenetic Field Mastery
1800
2
Epigenetic Triggers
Base: 32.5
From its cradle as a purely pharmaceutical venture, advancements in our understanding of the morphogenetic field allow for direct, subconscious interfaces with organic units.
Amoeba Breeding Program
2200
2
Amoeba Flagella
Debris analysis outcome (Space Amoeba)
By breeding Space Amoebas in captivity, we can program their symbiotic flagella to act as organic strike craft for our navy.
Gene Tailoring
2200
2
Cloning
Base: 90
Making gene-editing tools widely available is sure to have a positive impact on our development as a species.
Selected Lineages
2200
2
Leader Enhancement – Selected Lineages
Vitality Boosters
Base: 30
Careful reproductive planning should be incentivized, lest we waste valuable genetic legacies.
Cell Revitalization
3000
3
+5 Leader lifespan
Vitality Boosters
Base: 12.5

Modifiers

0.01x if researching another repeatable tech.

Regimens of periodic cell revitalization treatments keep the leader class spry and active beyond traditionally expected lifespans.
Stimulant Diet
3000
3
Neural Implants
Base: 12.5

Modifiers

0.01x if researching another repeatable tech.

Chemically optimizing diets for indentured workers allow them to perform above projected productivity curves.
Transgenic Crops
3000
3
+5% Food
Gene Crops
Base: 12.5

Modifiers

0.01x if researching another repeatable tech.

Transgenic crops offer the nutritional elements of several standard food crops in one convenient package.
Capacity Boosters
4000
3
Leader Enhancement – Capacity Boosters
Selected Lineages
Base: 22.5
We leave nothing to chance, no matter the cost. Through exacting curation of DNA banks do we build the leaders of tomorrow.
Gene Seed Purification
4000
3
Gene Warrior Army
Base: 45
Nucleotide purification techniques allow for the isolation and refinement of particularly desirable genetic traits.
Nano-Vitality Crops
4000
3
Base: 45
Infusing crop strands with small amounts of nano-machines help create a type of produce that is ultra resilient, and the chemical composition of which can be tailored and altered during its entire lifetime.
Targeted Gene Expressions
4000
3
+1 Trait points
Gene Tailoring
Base: 22.5
Stricter control of RNA and protein production on the cellular level.
Genetic Resequencing
5000
3

Advanced Genetic Modification
Advanced Traits

Evolutionary Mastery
No longer will we be limited by the basic biological structure of a species when striving to improve them. DNA is just another material to be shaped as the sculptor wills it.
Nutrient Replication
5000
3
+15% Food
Nano-Vitality Crops
Base: 40
The process of synthetically replicating crops requires a lot of collected waste to create a small amount of produce, but nevertheless provides a significant boost to agricultural output.
Secrets of Life
5000
3
Base: 40
Having the opportunity to study the multitudes of life lets us find some common ground for all living beings. The foundational building blocks of life.
Scourge Missiles
5000
3
Scourge Missile
Debris analysis outcome (Prethoryn)
By analyzing the biological weaponry employed by the Swarm we can create self-propelled projectiles weapons spreading the very same horrific destruction.
Swarm Spawning Pools
5000
3
Swarm Strikers
Debris analysis outcome (Prethoryn)
Collecting specimens from defeated Prethoryn enables us to clone and genetically program a war-brood of our own.
Regenerative Hull Tissue
5000
3
Regenerative Hull Tissue
Debris analysis outcome (Crystalline Entities or Space Amoeba)
A genetically altered version of silicon-based bacteria could potentially be manipulated to regenerate non-organic materials.
Planetary Defenses
Defense Army
There may come a time when intellects, vast and cool and unsympathetic, regard our worlds with envy and draw plans against us. We must be ready.
Centralized Command
360
1
Base: 100
Creating dedicated headquarters for all levels of military operations shapes an efficient fleet, and lays a better foundation for future military training.
Doctrine: Space Combat
360
1
+10% Naval capacity
Base: 300
Gradual adaptation to the realities of deep-space combat allows us to effectively coordinate larger maneuvers.
Doctrine: Fleet Support
480
1
Doctrine: Space Combat
Base: 95
As extrasolar expeditions become more common, it is important to provide planetside relief for returning fleets.
Doctrine: Reactive Formations
600
1
+10% Naval capacity
Doctrine: Space Combat
Base: 270
Gradual adaptation to the realities of deep-space combat allows us to effectively coordinate larger maneuvers.
Combat Training
720
1
–10% Army upkeep
Centralized Command
Base: 85
Creating dedicated headquarters for all levels of military operations shapes an efficient fleet, and lays a better foundation for future military training.
Doctrine: Refit Standards
720
1
–15% Ship upgrade cost
Doctrine: Reactive Formations
Base: 85
Standardizing workflows for upgrading and retrofitting ship components can lead to massive efficiency gains.
Interstellar Fleet Traditions
720
1
Doctrine: Reactive Formations
Base: 85
A body of knowledge regarding combat behaviors is useless without a strong code governing its use.
Doctrine: Interstellar Warfare
1000
2
+10% Naval capacity
Doctrine: Reactive Formations
Base: 225
Gradual adaptation to the realities of deep-space combat allows us to effectively coordinate larger maneuvers.
Doctrine: Command Matrix
1400
2
–5% Ship upkeep
Base: 70
Restructuring the chain of command and deciding what interdependencies are set between officers, make fleets more responsive and thus cost-effective.
Doctrine: Fluid Fleet Templates
2200
2
+10% Naval capacity
Doctrine: Interstellar Warfare
Base: 180
Gradual adaptation to the realities of deep-space combat allows us to effectively coordinate larger maneuvers.
Aggressive Conditioning
3000
3
+10% Army damage
Combat Training
Base: 12.5

Modifiers

0.01x if researching another repeatable tech.

Iterating on the standard conditioning regimen for ground troops has proven to make them more effective in direct combat.
Doctrine: Armada Battle Formation
3000
3
+10% Naval capacity
Doctrine: Fluid Fleet Templates
Base: 150
Gradual adaptation to the realities of deep-space combat allows us to effectively coordinate larger maneuvers.
Nerve Dampeners
3000
3
+10% Army health
Combat Training
Base: 12.5

Modifiers

0.01x if researching another repeatable tech.

Careful tuning of pain receptors allow soldiers to fight through what would previously have been debilitating injuries.
New Worlds Protocol
Colony Ship
Spaceport
Calculating required resources and gear required to establish a planetary colony allows us to herd brave pioneers into grand "ark ships", confident that they will survive the long voyage across the stars to a new home.
Climate Control Network
480
1
Massive Glacier
Base: 190
Orbital systems of mirrors and shades can effect dramatic changes in planetary climates, when managed properly.
Dangerous Wildlife Removal
480
1
Dangerous Wildlife
Base: 190
Tactical disruption of natural habitats combined with converging search-and-destroy patterns can effectively eliminate hostile wildlife in a very short span of time.
Deep Crust Engineering
480
1
Active Volcano
Base: 190
Advances in material technology and deep-shaft mining techniques allow geo-engineering at previously unthinkable depths and temperatures. Magma hotspots can now be exploited, suppressed, or even relocated.
Ocean Ecology Management
480
1
Toxic Kelp
Base: 190
Given enough processing power, networked sensors and distributed stations, even the ocean currents can be managed to a fine level of control.
Planetary Resurfacing
480
1
Mountain Range
Base: 190
With the advent of clean fusion, automation, and matter compression technologies, it was only a matter of time before mountain top removal became mountain range removal.
Selective Defoliants
480
1
Dense Jungle
Base: 190
Thorough cataloging, gene sequencing, and computer modeling of exobotanical ecosystems, coupled with gene editing and dispersal mechanisms, will allow us to reshape alien plant communities to our liking.
Soil Remediation
480
1
Quicksand Basin
Base: 190
The process of soil deposition normally takes millions of years. With advanced fracking, chemical engineering, and hydraulic management technologies even the poorest substrate can be turned into fertile topsoil.
Subterranean Colonization
480
1
Deep Sinkhole
Base: 190
Many planets exhibit extensive subsurface voids. Subterranean exploration, exploitation, and construction techniques can greatly increase the habitable area of some worlds.
Xeno-Hydraulic Mastery
480
1
Noxious Swamp
Base: 190
Sentient races have been reclaiming swampland for thousands of years. A coordinated system of modular aquaducts, pump stations, chemical remediation crawlers and automated soil compactors can reclaim land at unprecedented speeds.
Terrestrial Sculpting
600
1
Base: 90
There is no simple solution to the problem of macro-scale reshaping of planetary crusts - only bigger trowels and orbitally-deployed drills.
Atmospheric Filtering
1000
2
+5% Habitability
New Worlds Protocol
Base: 75
By adjusting atmospheric filtering on a per-site basis to better filter out undesirable elements, colonial living conditions may be improved.
Atmospheric Manipulation
1000
2
Terraform planets' climate
Terrestrial Sculpting
Base: 75
Humidity regulators and chemical dispersal units are the first step towards a fundamentally altered atmosphere.
Colonial Centralization
1000
2
Planetary Unification
Base: 300
Robust frameworks for local governance created on a per-case basis, to meet each colony's needs.
Ecological Adaptation
1800
2
Terraform inhabited planets
Atmospheric Manipulation
Base: 65
By adapting planetary ecosystems to large-scale environmental changes we can turn terraformation into a less disruptive process.
Tomb World Adaptation
1800
2
+20% Tomb world habitability
Atmospheric Filtering
Base: 32.5
Through comprehensive study of irradiated environments we will allow our settlers to colonize worlds that have been devastated by nuclear warfare.
Hostile Environment Adaptation
2200
2
+5% Habitability
Atmospheric Filtering
Base: 60
Further study into the hazardous environments found on other planets help alleviate the difficulties that colonizers encounter in their day-to-day lives on foreign worlds.
Climate Restoration
3000
3
Terraform tomb planets
Ecological Adaptation
Base: 50
By advancing our understanding of atmopsheric manipulation, we will be able to terraform even the most ecologically devastated worlds.
Foreign Soil Enrichment
4000
3
+5% Habitability
Hostile Environment Adaptation
Base: 45
Extensive study into different soil types and their ability to support crops will help improve the living conditions of our settlers on foreign worlds.
Gaia Creation
6000
3
Terraform to gaia planets
Climate Restoration
Base: 3.5
The creation of Gaia planets, worlds eminently suitable to almost all forms of life, is the ultimate proof of a species' mastery in the art of terraforming.
Eco-Integration Studies
6000
3
+5% Habitability
Foreign Soil Enrichment
Base: 35
Additional study into different planetary climates will allow us to settle our population on worlds previously thought too hostile to support them.
Psionic Theory
2200
2
PSI Warriors
Base: 30
The mind is in many ways a reflection of the universe itself, a microcosmos. All species may not reach this insight, but their minds are tools greater than any other.
Precognition Interface
3000
3
Precognitive Interface
Telepathy
Base: 25

Modifiers

Advances in the field of Psionics suggest the possibility of creating combat computers capable of reading and analysing the impulses of telepathic operatives before they are cognitively processed.
Telepathy
3000
3
Psionic Army
Base: 25

Modifiers

Once fully adapted to the basics of Psionics, the mind is capable of connecting to other individuals, becoming something greater.
Psi Jump Drives
6000
3
Psi Jump Drive
Precognition Interface
Base: 3.5
The Psi Jump Drive harnesses the psi energies emitted by the crew to force the vessel through the very fabric of reality, instantly "jumping" vast distances.
Planetary Government
Planetary Administration
Once a colony has been firmly established and pioneers turn into citizens, the need for a strong local government providing stability trumps the colonial need for flexibility.
Sociocultural History
Autochthon Monument
An understanding of a shared past is necessary in order to make any significant strides into the future.
Heritage Sites
360
1
Heritage Site
Sociocultural History
Base: 100
Physical reminders of how far we have come both instill a reverence for past achievements and bolster ambitions for the future.
Planetary Unification
360
1
Planetary Government
Base: 400
Ancient warring tribes, historic nations in conflict, now unified in empire. We must not, will not, crumble.
Adaptive Bureaucracy
480
1
Planetary Unification
Base: 95
The progress we made calls for a new, nimbler form of administration that may aid rather than hinder us in our pursuits.
Neural Implants
600
1
Slavery is allowed
Base: 90
Cognition is little but the processing of sensory input. It can be altered. Free will is nothing more than a sensory illusion.
Colonial Bureaucracy
720
1
+1 Core sector systems
Base: 85
Local administrative developments allow for closer supervision of colonial affairs without excessively burdening central decision-making.
Galactic Ambitions
720
1
+20% Border range
Established communications with an alien empire.
Base: 85
Reduces 'Cede Planet' and 'Cede Military Station' war demand cost.
Subdermal Stimulation
1000
2
Living Standard – Chemical Bliss
Hive-minded
Base: 37.5
Deep-tissue implants are the latest innovation in the revolutionary overlapping of sensory engineering and entertainment experiences. "Where we're going, we won't need skin to feel!"
Artificial Moral Codes
1400
2
Base: 65
It is circumstance that dictates what is moral. Define the circumstances, and ethics is like clay in your hands.
Holographic Rituals
1400
2
Holotemple
Base: 70
Seeing is believing, and belief begets reality.
Local Hypercommunication
1400
2
Hypercomms Forum
Base: 70
Not all research into faster-than-light communication channels produces useful results, but some outcomes may find new purpose in bringing our people together.
The Living State
1400
2
Colonial Centralization
Base: 70
The Empire lives, the Empire breathes. We may make up its body, but it is not for the left hand to know what the right hand is doing.
Galactic Bureaucracy
1800
2
+1 Core sector systems
Base: 65
Multiple administrative strata efficiently surface only the most vital information to the upper levels of government.
Interstellar Campaigns
1800
2
–25% War demand cost
Base: 65
A well-oiled war machine is the key to exerting influence on a galactic scale. Backed by the might of our military, we can lay claim to almost anything we want.
Synthetic Thought Patterns
2200
2

–15% Edict cost
–10% Resettlement cost

Artificial Moral Codes
Base: 60
Thinking outside the box merely places you into another, somewhat larger box.
Administrative Efficiency
3000
3
+1 Core sector systems
Galactic Bureaucracy
Base: 12.5

Modifiers

0.01x if researching another repeatable tech.

Restructuring the managerial web linking core worlds to the capital can help alleviate the administrative stressors and information chokepoints that frequently arise within a budding empire.
Communication Protocols
3000
3
+1 Sector limit
Adaptive Bureaucracy
Base: 12.5

Modifiers

0.01x if researching another repeatable tech.

Improved FTL communication channels allow for more coherent administrative direction.
Galactic Administration
3000
3
Colonial Centralization
Base: 200
The administrative needs of a star empire are as numerous as they are complex. We will rise to the occasion.
Galactic Campaigns
3000
3
–25% War demand cost
Base: 50
Further improvements to administration grant an extended power projection across the stars, and the military clout needed to enforce our demands.
Proclamation Broadcasts
3000
3
+10% Edict duration
Artificial Moral Codes
Base: 12.5

Modifiers

0.01x if researching another repeatable tech.

More aggressive information campaigns improve the populace's receptiveness to Edicts.
Sentient Resource Management
3000
3
+1 Empire leader capacity
Adaptive Bureaucracy
Base: 12.5

Modifiers

0.01x if researching another repeatable tech.

The concept of managing individuals as resources within larger systems of production must, by necessity, become more flexible as the potential natures of the managed individuals grow ever more numerous.
Talent Acquisition
3000
3
–5% Leader recruitment cost
Adaptive Bureaucracy
Base: 12.5

Modifiers

0.01x if researching another repeatable tech.

Propaganda programs and subtle manipulation of economic records drive down the cost of employing top-tier Leaders.
Automated Curation Algorithms
4000
3
Auto-Curating Vault
Base: 45
Continuous, asynchronous analysis of disparate data sets allows for the accurate modeling of hitherto-unpredictable fluctuations in social currents.
Doctrine: Strange Loop
4000
3
Loop Institute
Event chain outcome (Horizon Signal)
A set of social protocols based on paradoxical intuition, and on love. When we know the System of the Loop, we learn that we can influence by receiving instructions, as well as giving them.
Galactic Benevolence
4000
3
Ministry of Benevolence
Galactic Administration
Base: 22.5
Our people are united and strong, and their rulers benevolent. Sometimes the populace needs to be reminded of this fact.
Galactic Markets
4000
3
Galactic Stock Exchange
Base: 22.5
The administrative needs of a star empire are as numerous as they are complex. We will rise to the occasion.
Metacognitive Faith
4000
3
Citadel of Faith
Base: 45
Leaving our planetary cradle has opened us up to a new understanding of faith, and its place in a wider context.
The Collective Self
4000
3
Base: 45
Finding aspects of the self within the group is natural and inevitable; eventually those shared aspects must be valued higher than individual identities.
Will to Power
5000
3
Synthetic Thought Patterns
Base: 20
As power is simply the ability to impose one's will on others, the will to power is a self-fulfilling prophecy.
External link
References
↑ See in /Stellaris/common/defines/00_defines.txt.