Traditions
Jump to navigation
Jump to search

Please help with verifying or updating older sections of this article. At least some were last verified for
version
3.5.
This article is for the PC version of Stellaris only.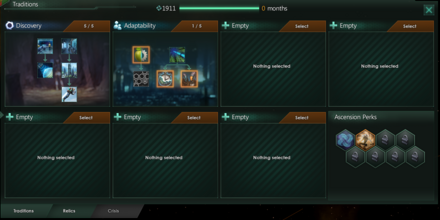 Traditions represent the socio-cultural evolution of an empire as it expands and develops and consist of abilities, edicts, or bonuses unlocked with the

 unity resource. Traditions are a key mechanic for tailoring the playstyle of an empire by allowing the player to reinforce the empire's strengths or lessen its weaknesses. Completing a tradition tree unlocks a slot for an

 ascension perk, which provides even further enhancements.
Tradition cost
The cost of unlocking a tradition depends on how many traditions the empire has already unlocked, as well as the

 empire size cost. The tradition cost formula is the following:
"Tech/tradition cost" refers to the game setting. "Empire size effect" is a modifier to the effect of empire size on its associated penalties, including tradition cost; it is affected by certain authorities. The adoption and finisher effects both count as traditions in their own right, so starting a group counts as one tradition, and unlocking the last tradition in a group counts as two.
Several of these parameters are controlled by defines.[1]
Tradition trees
Traditions are grouped into tradition trees with 5 traditions each, as well as a bonus for adopting the tradition tree and one for finishing it. Each empire can select up to 7 tradition trees.
Discovery
The Discovery tradition tree focuses on exploration and research and is available to all empires.
To Boldly Go / Exploration Drones / Sensing Tendrils
Science Division / Research Path Optimization / Mindlink
Databank Uplinks
Polytechnic Education / Iterative AI / Hyperadaptive Evolution
Faith in Science / Uplink Latency Reduction / Synaptic Broadcast

−20% Researcher upkeep
Domination
The Domination tradition tree focuses on better managing planets and is available to all empires.
Colonial Viceroys / Autonomous AI / Meeting of the Minds
Imperious Architecture / Modular Depots / Synaptic Extensions
Public Trust Officers / / Judgment Corps / Deviancy Protocols / Divergence Suppression
Privy Council / Multithreaded Core Functions / Synaptic Network
Workplace Motivators / Drone Network
Expansion
The Expansion tradition tree focuses on the expansion of territory and colonies and is available to all empires.
Reach for the Stars / Signal Relay Stations / Amoebic Synapses
Colonization Fever / Automated Colonization Units / One Mind
Courier Network / Extensible Software / Limited Autonomy
Galactic Ambition / Cogs in the Machine / Blot out the Stars
A New Life / Hotjoin Protocols / Spawning Frenzy
 +1 Max districts for all non-artificial planets
 Void Dwellers: −20% Habitat Build Cost instead
Prosperity
The Prosperity tradition tree focuses on various empire-wide bonuses and is available to all empires.
Administrative Operations / Superconductive Power Transmission / Chitinous Architecture
Standard Construction Templates / Prefabricated Buildings

−10% Building and district upkeep

The Pursuit of Profit / Creative Collectives / Peak Performance / Neural Signal Boosters
Interstellar Franchising / Efficiency Algorithms / Efficiency Instincts
Public Works Division / Modular Superstructures / Optimized Nexus / Extended Hives

 +1 Clerk per City District or Habitat Trade District[2]

 +5% Resources from Jobs
 +5 Stability on all colonies
Supremacy
The Supremacy tradition tree focuses on fleets and armies and is available to all empires.
Master Shipwrights / Modular Hull Templates / Organic Architecture
Fleet Logistics Corps / Automated Underway Replenishment / Nutrient Arks
Overwhelming Force
War Games / Combat Variable Mitigation / Three-Dimensional Awareness
The Great Game / Diplomatic Target Prioritization / Hunter's Eye

 +20% Damage against Starbases

Unlocks War Doctrine policies
Unlocks the Supremacist diplomatic stance
Diplomacy
The Diplomacy tradition tree focuses on improving the benefits an empire can gain through diplomacy and is not available to empires with the
 Inward Perfection or

 Devouring Swarm civics.
The Federation
Diplomatic Networking / Diplomatic Networking
Entente Coordination
Direct Diplomacy
Eminent Diplomats / Improved Envoy Drones
 +10% Diplomatic weight
 +1 Available envoys
Adaptability
The Adaptability tradition tree focuses on using planets more efficiently and is not available to

 Machine Intelligence empires.
Dietary Enrichment / Enhanced Recycling
Environmental Diversification
Survival of the Fittest
Adaptive Ecology
Appropriation
Unlocks Planetary Prospecting Decision
 Void Dwellers: Unlocks Orbital Surveying Decision instead
Harmony
The Harmony tradition tree focuses on better managing the empire and is not available to

 Gestalt Consciousness empires.
Mind and Body / Unity of Self
Kinship / Kinship
The Greater Good
Harmonious Directives
Utopian Dream
 −10% Empire Size from Pops
Mercantile
The Mercantile tradition tree focuses on trade and is not available to

 Gestalt Consciousness empires.
Trickle Up Economics
Adaptive Economic Policies / Federal Trade Fleets
Commercial Enterprise
Marketplace of Better Ideas
Insider Trading
Synchronicity
The Synchronicity tradition tree focuses on better managing the empire and is only available to

 Gestalt Consciousness empires.
−10% Pop Upkeep

Self-Preservation Protocols / Cloned Organs / Unity of Mind
Synchronized Agents
Integrated Preservation / Instinctive Synchronization

 Machine Intelligence: −50% Leader accident chance[4]

Flexible Governing Algorithms / Flexible Thought Routines
Collective Reasoning
 −10% Empire Size from Pops
 Machine Intelligence: Unlocks the Industrial Maintenance edict
Unyielding
The Unyielding tradition tree focuses on defense and is available to all empires.
Resistance is Frugal / Resistance is Frugal / Resistance is Frugal
Defensive Zeal
Never Surrender / Never Surrender
Fortress Doctrine / Guardian Subroutines / Vigilant Thought Processes
Bulwark of Harmony / Bulwark of Harmony / Bulwark of Harmony
Subterfuge
| | |
| --- | --- |
| | Available only with the Nemesis DLC enabled. |
The Subterfuge tradition tree focuses on espionage and counterespionage and is available to all empires.
Information Security
Operational Security / Subterfuge Drones
Non-Disclosure Agreement / Updated Security Algorithms / No Loose Ends
Double Agents
Shadow Recruits
 +50% Infiltration Level refund for successful Operations
Versatility
The Versatility tradition tree focuses on various empire-wide bonuses and is only available to

 Machine Intelligence empires.
−10% Pop Assembly Cost

Universal Compatibility
Spatial Optimization
Adaptive Programming
Material Analysis
Operational Proxies

−5% Job Upkeep

50% Refund per demolished building or district
Ascension perks
Finishing an entire tradition tree or acquiring the

 Ascension Theory technology unlocks an ascension perk slot. Ascension perks can be viewed as defining characteristics that emerge as a product of the socio-cultural evolution represented by the traditions intertwining with the empire's identity (its Origin, Ethics, Civics, Government and Population). Ascension perks represent the empire's greater-scope ambition(s) and, in the case of the three ascension paths, its ultimate final fate.
Ascension perks often favor either a tall or wide gameplay, with some that allow access to gameplay mechanics not available through traditions alone. This includes the three ascension paths, the ability to build advanced deep-space megastructures, the ability to use terraforming to create special planets, and becoming a Galactic Nemesis. An empire can have up to 8 Ascension perks.
Due to the difficulty of unlocking an ascension perk slot, it is prudent to delay making a choice, especially if the desired perk cannot be selected because the required technologies have not been researched yet. In addition, once chosen, an ascension perk is permanent and cannot be changed.
Tier 0 ascension perks can be taken from the start. Tier 1 perks require 1 previous ascension perk to be taken, tier 2 perks require 2 previous ascension perks, and tier 3 perks require 3 previous ascension perks. The higher the AI weight, the more likely an AI empire will select that ascension perk.
Ascension perk
Tier
Effects
Prerequisites
AI weight
DLC
Consecrated Worlds
0
Consecrate World decision
 Spiritualist
10
Detox
0
Can terraform worlds with the Toxic Terraforming Candidate modifier
 Climate Restoration technology
20
Eternal Vigilance
0
 Star Fortress technology
10
Executive Vigor
0
+100 Edict fund
30
Galactic Wonders
0
10
Hydrocentric
0
40
Imperial Prerogative
0
 −50% Empire size from colonies
10
Interstellar Dominion
0
10
Mastery of Nature
0
10
Lord of War
0
5
Nihilistic Acquisition
0
Unlocks the Raiding bombardment stance
10
One Vision
0
 Machine Intelligence
10
Shared Destiny
0
5
Technological Ascendancy
0
30
Transcendent Learning
0
10
Universal Transactions
0
 Corporate
10
Voidborn
0
 Orbital Habitats technology
10
Xeno-Compatibility
0
10
Engineered Evolution
1
15
Enigmatic Engineering
1
2
Grasp the Void
1
3
Mind over Matter
1
20
The Flesh is Weak
1
20
World Shaper
1
5
Arcology Project
2
Arcology Project decision
10
Become the Crisis
2
Unlocks Menace and the Crisis tab
7.5
Evolutionary Mastery
2
100
Galactic Force Projection
2
10
Hive Worlds
2
 Hive World terraforming option
20
Machine Worlds
2
 Machine World terraforming option
20

x0 if  Rogue Servitor

Master Builders
2

 Mega-Engineering Technology

10
Synthetic Age
2
20
Synthetic Evolution
2

Special Project to turn the empire synthetic

100
Transcendence
2
100
Colossus Project
3
 Titans technology
10
Defender of the Galaxy
3
20
Galactic Contender
3
Communications with a fallen or awakened empire
10

x0 if bordering an Awakened Empire
x2 if an Awakened Empire exists
References