User:*Aqua*/Ethos WIP
Jump to navigation
Jump to search
{{version|Pre-release}}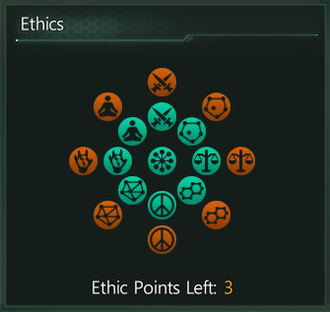 An ethos (also called ethics) is considered the sum of all beliefs and ideals that a given group of people have and it defines what they are at their core.
Empires and individual populations don't always ethically align and this effect exacerbates the farther from a core region a given species is, which can cause internal strife in large nations.
Ethos types
During the race creation the player can invest up to three points to define the race's ethos. The default value for each ethic is neutral which provides not changes to default values. Each step away from it costs one point and in change gives boni and mali. Investing two points in one category results in a fanatic ethic and more extreme boni and mali.[1]
Also available government types depend on the selected ethics.
Collectivist vs. Individualist
Collectivists work for the community while individualists work for their own benefit.
Collectivist Fanatic
Collectivist
Individualist
Individualist Fanatic

Effects

-

-

-

-

Goverment

Unlocks

-

-

-

-

Locks

-

-

-

-
Xenophobe vs. Xenophile
Xenophob is the dislike of what's perceived foreign and alien. Xenophile is the opposite.
Xenophobe Fanatic
Xenophobe
Xenophile
Xenophile Fanatic

Effects

-

-

-10% xenophobia
-50% alien slavery tolerance

-

Goverment

Unlocks

-

-

-

-

Locks

-

-

-

-
Pacifist vs. Militarist
Pacifist societies don't like wars and usually try to find a peaceful solution. Militarists are more aggressive and prefer fights over diplomacy.
Pacifist Fanatic
Pacifist
Militarist
Militarist Fanatic

Effects

-

+15% food
-25% war tolerance
-10% war happiness

-

-

Government

Unlocks

-

-

-

-

Locks

-

-

-

-
Spiritualist vs. Materialist
Spiritualists search the reason of being in religions and believes while materialists define themselves through possession.
Spiritualist Fanatic
Spiritualist
Materialist
Materialist Fanatic

Effects

-

-

-

-

Goverment

Unlocks

-

-

-

-

Locks

-

-

-

-
References